Bag Sealers | Preferred Pack T-300 Fully Automatic Tabletop Bagger
Availability
Online
In Store
Same Day
Description
Bag Sealers | Preferred Pack T-300 Fully Automatic Tabletop Bagger
The T-300 is the smallest fully automatic bagger from Excel. The T-300 offers increased production capabilities.
Packed full of features, the T-300 includes touch-screen operation, pop-up messaging, job save/recall and an interface to auto infeed equipment.
FEATURES
Fully automatic with automatic indexing, sealing and tear off or continuous strips
Solid, constant heat seal bar with temperature adjusted through easy-to-use temperature controller
Patented Teflon shield increases Teflon life tenfold; Teflon only contacts the heater bar while sealing; The Teflon remains clean with less opportunity to burn
Guard-switch operation cycles the machine at the loading area to minimize operator movements; decrease operator fatigue and increase output
Patented anti-jamming method detects seal obstructions and reverses seal bar
Universal adjustable funnel included
Air knife quickly opens bag with filtered air
Adjustable support provided for heavier products
Automatically feeds and advances the bag into position
Maximum pass through height is 3"
Cycle Rate - Up to 70bpm
T-300 Special Features:
Full color screen with pop-up windows
Diagnostic and troubleshooting screens
Preset and totalizing bag counter
Automatic "paced" operation with fill time delay timer
Universal, adjustable parts chute
Adjustable support shelf
Blower with flow controls
One year limited parts warranty
Note: All the Table Top Baggers – the T-200, T-275, T-300, and T-375 have Counters you can pre-set. When you reach the pre-set number, the Screen on the Bagger will look like the picture below.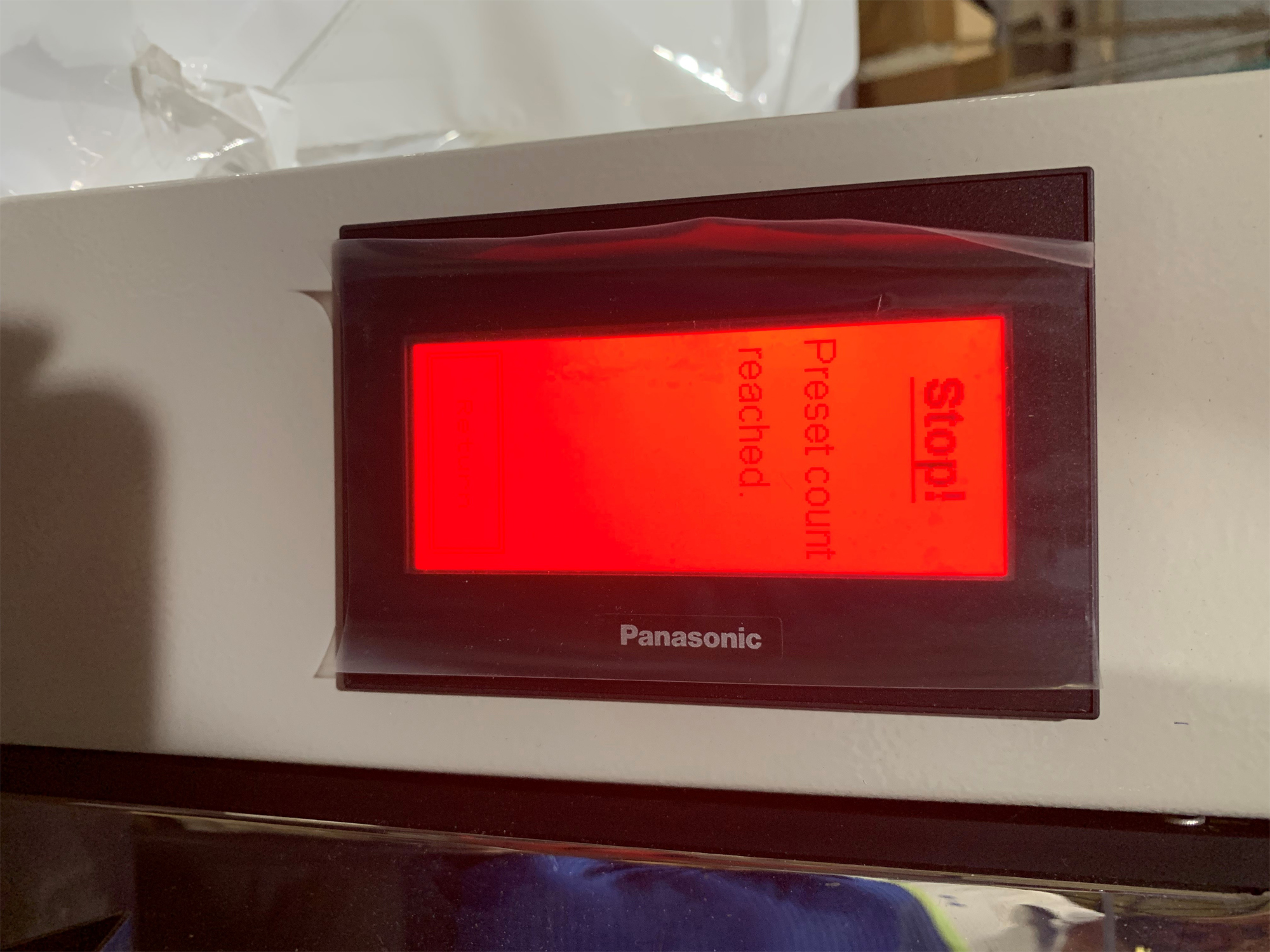 SPECIFICATIONS
Seal Mechanism: 1/8inch Sold Heater Bar
Cycle Operation: Automatic Paced
Bag Size Range: 10inch Rolls, 2inch x 2inch up to 11inch x 16inch
Guard-Switch Feature: Standard
Product Pass Through: 2.75inch and can be increased
Electric: 110V/60Hz
Air: .5cfm/50psi
Dimensions: 20inch x 14inch x 21inch
Weight: 50lbs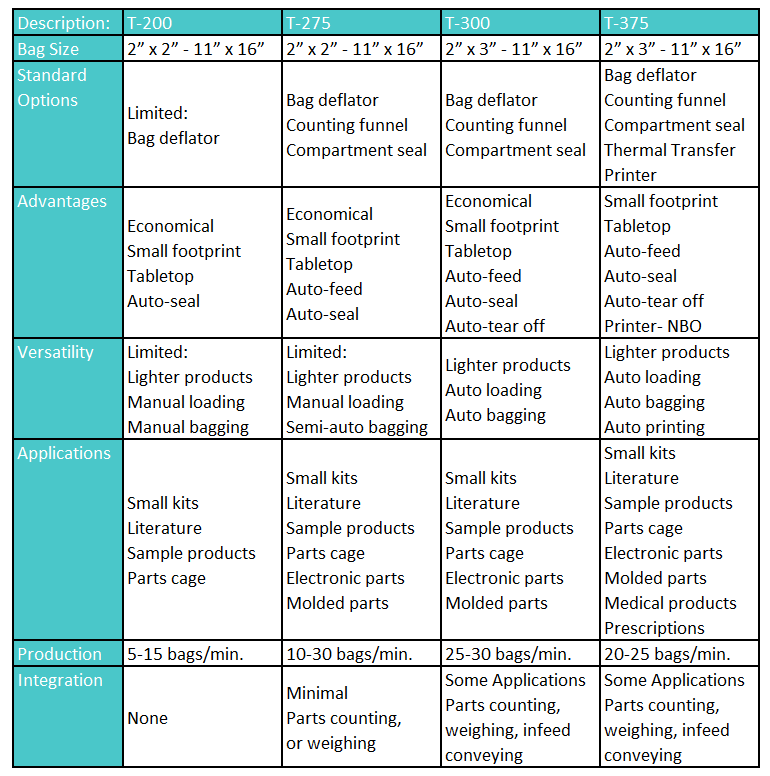 Options and Accessories for the T-300 & T-375
Options and equipment can easily be added for special purpose packaging or to improve your packaging operation. Carts are a great accessory for tabletop equipment! Multiple funnel sizes are available as well as a long list of additions to make your machine perfect for your industry. APPI options can make your machine customizable to fit your needs faster, better production.
Bag Deflator
Counting Funnel
Compartment Seal
Load Shelves
Blow Off Assembly
Hand Scanners
Adjustable Cart
Quick Change Bag Bars
Preferred Pack T-300 Fully Automatic Tabletop Bagger
If you have any questions or concerns, contact a customer service representative today.


Phone: 877.336.6877 Visit: www.officeequipmentmachineshop.com




Specifications
Manufacturer Part #:
Dimensions (LxWxH):
20.00in. x 14.00in. x 21.00in.

---

SPECIFICATIONS

Seal Mechanism: 1/8inch Sold Heater Bar
Cycle Operation: Automatic Paced
Bag Size Range: 10inch Rolls, 2inch x 2inch up to 11inch x 16inch
Guard-Switch Feature: Standard
Product Pass Through: 2.75inch and can be increased
Electric: 110V/60Hz
Air: .5cfm/50psi
Dimensions: 20inch x 14inch x 21inch
Weight: 50lbs