Bixolon SRP-330 Thermal Printer with Custom Cable
This Item Ships For Free
Availability
Online
In Store
Same Day
Description
Bixolon SRP-330 Thermal Printer with Custom Cable
Multiple Interface options. 200mm/sec print speed, auto cutter, 2 year warranty.
The highly reliable Bixolon SRP-330 Thermal Receipt Printer is an 80mm thermal receipt printer to support your successful business all the time. It is ideal for Retail, Hospitality, Ticketing and Kiosk applications. The printer comes with a paper partition that enables 50mm or 80mm printing and has a 2 year warranty.
The SRP330 is fully featured with improved printing speed up to 200mm/sec and Smart Bixolon software package. Easy to use Windows driver and other various drivers make the SRP330 even more flexible.
Dual Interface
Fast Printing speed
High Reliability mechanism
Long lasting autocutter up to 1.5 million cuts with easy paperjam removal
50mm or 80mm paper (easily change paper size, no dip switch changes)
Stand-Alone or Wall Mounted
2 Year Warranty, 1 year on Print Head
HIGHLIGHTS
2" or 3" paper choice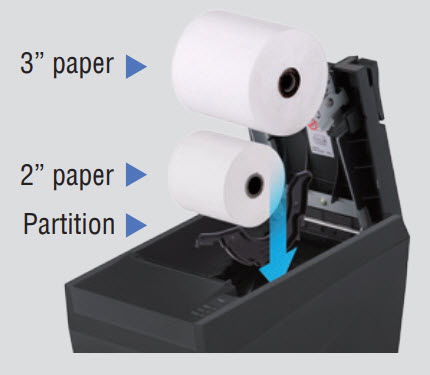 This two-in-one printer is equipped with a 2" partition, in which you can instantly change whether you desire 2 or 3 inch receipt. No need for utility or dip switch changes
Stand-alone or wall-mount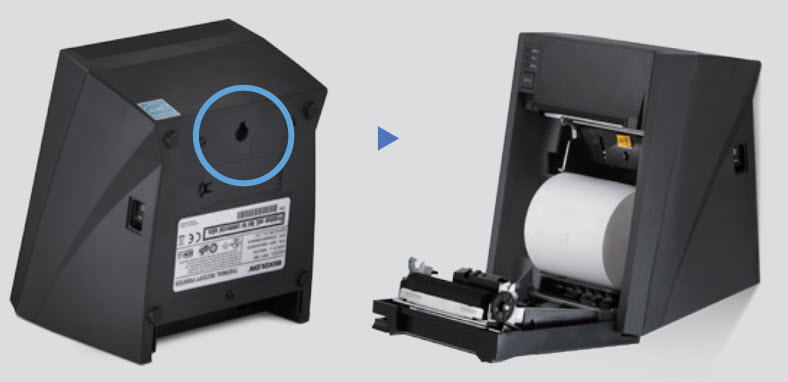 We have designed the printer to mount directly to the wall effortlessly without any additional accessories. Use this hole to secure the printer directly to your wall for space-saving convenience. Internal fixture keeps paper in place during printing for smooth printing job every time.
Dual communication interface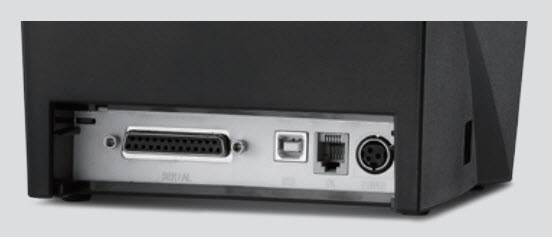 USB V2.0 FS + Ethernet
USB V2.0 FS + Serial
USB V2.0 FS + Parallel
Reliable Printing Performance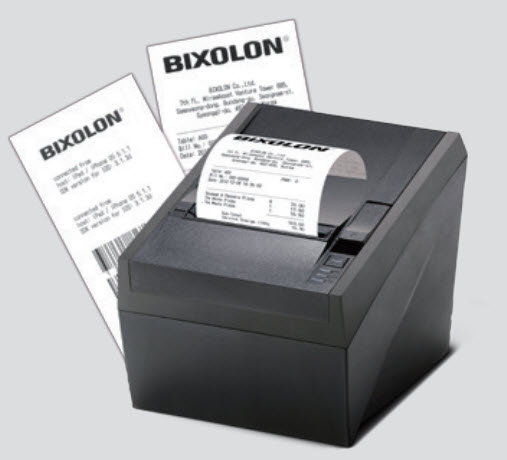 Fast printing speed: up to 200 mm/sec
High reliability mechanism : 1.5 million cuts auto cuter, 150 km TPH
Outstanding printing of fonts, graphics, and barcode symbologies
SPECIFICATIONS
Print Characteristics
Print Method : Direct Thermal
Print Speed : 200 mm/sec
Print Resolution : 180 dp
Sensor : Paper End, Cover Open
Media Characteristics
Media Type : Receipt
Media Width : 80 mm
Media Roll Diameter : Up to 80 mm
Supply Method : Easy Paper Loading
Physical Characteristics
Dimensions (WxLxH) : 153 x 195 x 145 mm (6.02 x 7.68 x 5.70 inch)
Weight : 1.44 kg (3.17 lbs.)
Power : EnergyStar Certified, External Power Adaptor 100-240V AV, 50/60Hz
Drawer Port : 2 ports
Performance Characteristics
Memory : 64 Mbit SDRAM, 16 Mbit FlashROM
NV Image Memory : 256 Kbytes (mono)
Receive Buffer : 4 Kbytes
User Define Buffer : 12 Kbytes
Interface : Dual Interface / Serial + USB 2.0 FS / Parallel + USB 2.0 FS / Ethernet + USB 2.0 FS
Environment Characteristics
Temperature : Operating: 0~45℃ (32~113℉) / Storage: -20~60℃ (-4~140℉)
Humidity : Operating: 10 ~ 80% RH / Storage: 10 ~ 90% RH
Reliability
Printer Unit : 60 million lines
TPH : 150 km
Auto Cutter : 1.5 million cuts
Software
Emulation : BXL / POS
Driver : Windows Driver, OPOS Driver, JPOS Driver, Linux CUPS Driver, Mac Driver,Virtual COM USB/Ethernet Driver, Utility Program
SDK : Android SDK
Fonts / Graphics / Symbologies
Character Size : Font A: 12 × 24 Font B: 9 × 17 Font C: 9 × 24 KOR, CHN, JPN: 24x24
Characters Per Line : Font A: 42 Font B, C: 56 / KOR, CHN, JPN: 21
Character Sets : Alphanumeric: 95 / Extended Graphics:128 × 37 page / International: 32
Graphics : Supporting user-defined fonts, graphics, formats, and logos
Barcode Symbologies : 1D: Coda Bar, Code39, Code93, Code128, EAN-8, EAN-13, ITF, UPC-A, UPC-E 2D: PDF417, QR Code
If you have any questions or concerns, contact a customer service representative today.


Phone: 877.336.6877 Visit: www.officeequipmentmachineshop.com




Specifications
Manufacturer Part #:
SRP-330
Dimensions (LxWxH):
6.00in. x 8.00in. x 6.00in.

---

SPECIFICATIONS

Print Characteristics


Print Method : Direct Thermal
Print Speed : 200 mm/sec
Print Resolution : 180 dp
Sensor : Paper End, Cover Open


Media Characteristics


Media Type : Receipt
Media Width : 80 mm
Media Roll Diameter : Up to 80 mm
Supply Method : Easy Paper Loading


Physical Characteristics


Dimensions (WxLxH) : 153 x 195 x 145 mm (6.02 x 7.68 x 5.70 inch)
Weight : 1.44 kg (3.17 lbs.)
Power : EnergyStar Certified, External Power Adaptor 100-240V AV, 50/60Hz
Drawer Port : 2 ports


Performance Characteristics


Memory : 64 Mbit SDRAM, 16 Mbit FlashROM
NV Image Memory : 256 Kbytes (mono)
Receive Buffer : 4 Kbytes
User Define Buffer : 12 Kbytes
Interface : Dual Interface / Serial + USB 2.0 FS / Parallel + USB 2.0 FS / Ethernet + USB 2.0 FS


Environment Characteristics


Temperature : Operating: 0~45℃ (32~113℉) / Storage: -20~60℃ (-4~140℉)
Humidity : Operating: 10 ~ 80% RH / Storage: 10 ~ 90% RH


Reliability


Printer Unit : 60 million lines
TPH : 150 km
Auto Cutter : 1.5 million cuts


Software


Emulation : BXL / POS
Driver : Windows Driver, OPOS Driver, JPOS Driver, Linux CUPS Driver, Mac Driver,Virtual COM USB/Ethernet Driver, Utility Program
SDK : Android SDK


Fonts / Graphics / Symbologies


Character Size : Font A: 12 × 24 Font B: 9 × 17 Font C: 9 × 24 KOR, CHN, JPN: 24x24
Characters Per Line : Font A: 42 Font B, C: 56 / KOR, CHN, JPN: 21
Character Sets : Alphanumeric: 95 / Extended Graphics:128 × 37 page / International: 32
Graphics : Supporting user-defined fonts, graphics, formats, and logos
Barcode Symbologies : 1D: Coda Bar, Code39, Code93, Code128, EAN-8, EAN-13, ITF, UPC-A, UPC-E 2D: PDF417, QR Code



Accessories

MSRP: $850.00
Price You Pay: $745.00