Bag Sealers | Preferred Pack T-375 Fully Automatic Tabletop Bagger with Next Bag Out Printer
Availability
Online
In Store
Same Day
Description
Bag Sealers | Preferred Pack T-375 Fully Automatic Tabletop Bagger with Next Bag Out Printer
In addition to all the features of the T-300, the T-375 incorporates a thermal transfer printer for "Next-Bag-Out" printing. This patented feature allows for printing just prior to loading, which guarantees accurate labeling and allows for quick changeovers on even the smallest batches. The seamless transition is also perfect for pharmaceutical applications when accurate labeling is vital.
FEATURES
Zebra Xi4Plus Series Printer, 203 dpi
You need Label Software to send information to the Bagger to print. We offer LabelView but most label creation softwares are compatible with the Zebra printers we use.
305 dpi and 600 dpi, optional
4 inch x 12 inch print area or 5 inch x 12 inch, optional
Items in bags can weigh up to 5 lbs.
Next Out Printing: The information to be printed for each individual bag is stored and queued in the label software so that each bag will have that individual information. Up to 999 labels can be stored depending upon the content on the label. For easy and smooth operation, the Operator is able to see the printing on a bag before loading the bag to ensure that the correct part is inserted in each bag.
Built in memory for storage (999 labels)
16 MB SDRAM; 8 MB non-volatile Flash memory
Note: All the Table Top Baggers – the T-200, T-275, T-300, and T-375 have Counters you can pre-set. When you reach the pre-set number, the Screen on the Bagger will look like the picture below.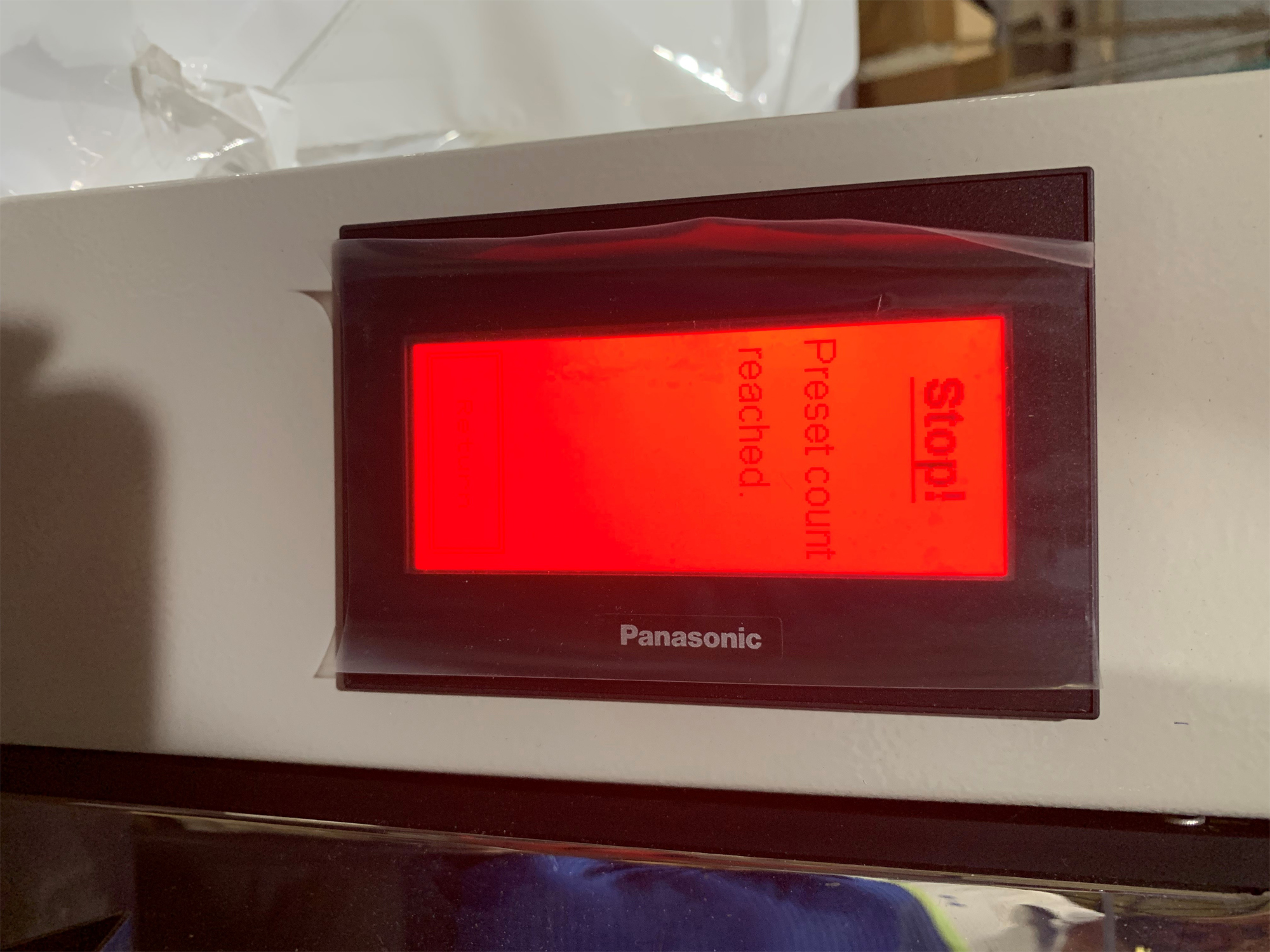 T-300 Special Features:
Full color screen with pop-up windows
Diagnostic and troubleshooting screens
Preset and totalizing bag counter
Automatic "paced" operation with fill time delay timer
Universal, adjustable parts chute
Adjustable support shelf
Blower with flow controls
One year limited parts warranty
SPECIFICATIONS
Dimensions: 22 W x 20 D x 22 H Inch (559 W x 508 D x 559 H mm)
Power: 11OV / 60 hz
Bag Size: 2 x 2 Inch - 11 x 16 Inch
Index Speed: 25 inch/second
Air: 50 psi
Bags/Min: Variable
Weight: 110 lbs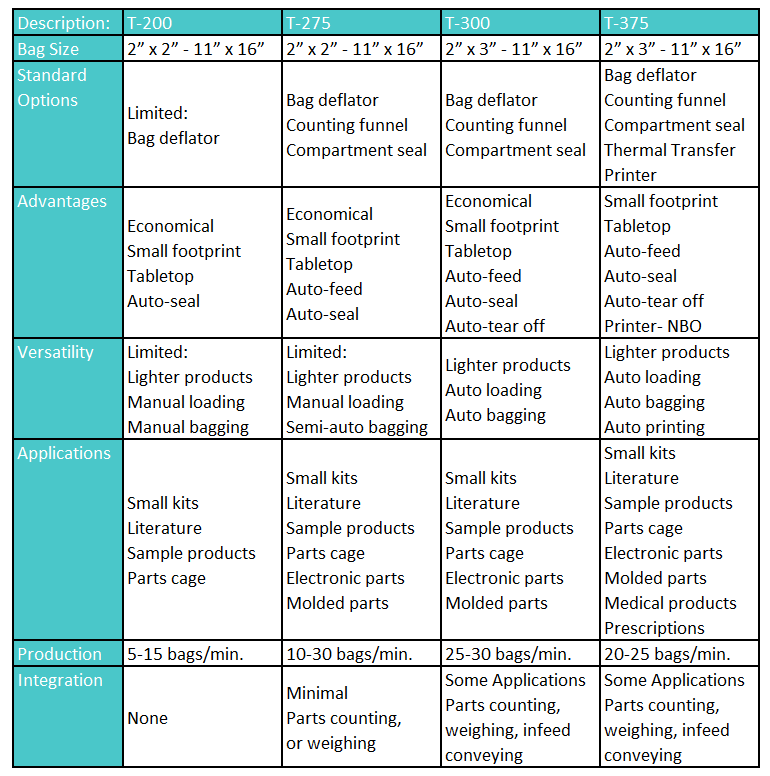 Options and Accessories for the T-300 & T-375
Options and equipment can easily be added for special purpose packaging or to improve your packaging operation. Carts are a great accessory for tabletop equipment! Multiple funnel sizes are available as well as a long list of additions to make your machine perfect for your industry. APPI options can make your machine customizable to fit your needs faster, better production.
Bag Deflator
Counting Funnel
Compartment Seal
Load Shelves
Blow Off Assembly
Hand Scanners
Adjustable Cart
Quick Change Bag Bars
Preferred Pack T-375 Fully Automatic Tabletop Bagger with "Next Bag Out" Printer
If you have any questions or concerns, contact a customer service representative today.


Phone: 877.336.6877 Visit: www.officeequipmentmachineshop.com




Specifications
Manufacturer Part #:
T-375
Dimensions (LxWxH):
20.00in. x 22.00in. x 22.00in.

---

SPECIFICATIONS

Dimensions: 22 W x 20 D x 22 H Inch (559 W x 508 D x 559 H mm)
Power: 11OV / 60 hz
Bag Size: 2 x 2 Inch - 11 x 16 Inch
Index Speed: 25 inch/second
Air: 50 psi
Bags/Min: Variable
Weight: 110 lbs