REINER Jetstamp 1025 Portable Handheld Ink Jet Printer Prints Logos, Images and Up To One Inch High Characters
Availability
Online
In Store
Same Day
Description
REINER | JetStamp 1025 Portable Handheld Ink Jet Printer .Prints Character up to One (1) Inch High.
The Only Cartridge-Based Handheld Printer With A1" Print Height!
The newest addition to the Reiner inkjet lineup is packed with power and precision. The Reiner JetStamp 1025 is the most flexible and function packed handheld printer ever brought to market. With the click of a button, the 1025 can print on absorbent and non-absorbent surfaces with 1D and 2D barcodes, graphics, logos, and alphanumerics – all in half a second. This unit is perfect for supply chain, logistics, cannabis, food & beverage, lumber, metal, contract packaging and countless other industry applications. Compliance has never been easier with this zero-maintenance cartridge based system and Reiner's industry unique self-traversing printhead. Printing on a variety of sizes and shapes is effortless, add in single and multi-line imprints, ERP/Database connectivity, and up to a 1 Inch print height and you've become unstoppable. Versatility and German engineering at it's finest. Accelerate your production process with the 1025, you'll wonder how your company ever functioned without it.
THE GREATER DIFFERENCE
The mobile marking device jetStamp 1025 - Made in Germany - can print up to a print height of 25 mm (1 in). The advantage: This can be done with only one print cartridge.
The diverse print spectrum includes freely adjustable continuous 1-D and 2-D barcodes, date, time, texts, numbers or graphics, such as the IPPC logo or company logo.
The desired print images can be created as standard using the "PCset graphic" software supplied. By an individual extended programming (customer side) the data transfer can take place via Windows based programs like e.g. Word, Excel as well as via a barcode label software or ERP systems.
For a smear-resistant impression on various surfaces, such as: Paper, cardboard, wood, metal, plastics and textiles there are two types of ink available.
Features:
Fully portable handheld inkjet printer – Thermal Inkjet (TIJ)
Operated via rechargeable batteries and/or permanent power
Prints on absorbent and non-absorbent surfaces
Prints single and multi-line imprints- depending on character size
Print area up to 1 Inch height x 3 1/2 Inch length
Adjustable font size from 1/16th -1 Inch
Prints Graphics, 1D and 2D barcodes, and alphanumerics
High Resolution 300DPI cartridge
Connection to Windows-based programs, merchandise management systems or barcode label software
Micro SD card data transfer and storage
Lightweight: 2.1 lbs with batteries and cartridge
ERP/database connectivity
Bluetooth connectivity
Network compatible
Great for right and left-handed operators
Ergonomic handling through multi-triggering: on the side and in the middle of the handle
UV- Security ink compatible
Unique Self-traversing printhead
4 Rechargeable AA Batteries
This equipment is only compatible with PC computers. Not MAC compatible.
JetStamp 1025 works with quick drying Black ink or Yellow Ink
Generally an Ink Cartridge lasts for up to 10,000 imprints. However, how long a cartridge lasts depends on how the cartridge is stored and how fast the cartridge is used. Quick-drying ink cartridges have approximately a 6-month shelf life prior to being opened and are warrantied for 30 days. If they are stored correctly they can be good for 6+ months when they're opened. Printing a Bar Code and Text, using a 12Pt Arial Narrow Regular Font Plus the UPC-A Barcode, with this layout you will get approximately 18,000 imprints per cartridge.
Print Samples:
Imprints may appear larger or smaller, depending on your viewing screen.

Accessories: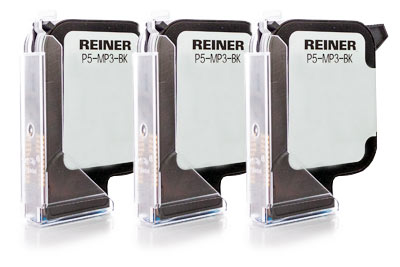 Reiner P5-MP3 Black Solvent Based Quick Drying Ink Cartridge For Non-Porous Surfaces- Model 1025 (EMP5MP3BK)
Reiner P5-SBK Black Water Based Ink Cartridge For Porous Surfaces- Model 1025 (EMP5-SBK)
AA Gold Peak Rechargeable Batteries (EM1025BAT)
SPECIFICATIONS
Print technology :Inkjet
Max. print area dimension (W x H) :85 x 25 mm (4 x 1 IN)
Max. print speed : < 1 s/print
Print resolution : 300 dpi
Battery capacity : up to 1.000 prints
Dimensions (L x W x H ): 194 x 200 x 98 MM (8 x 8 x 4 IN)
Weight : ca. 900 g
Application images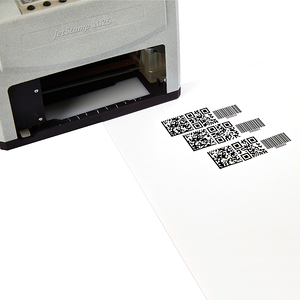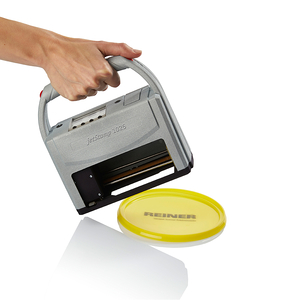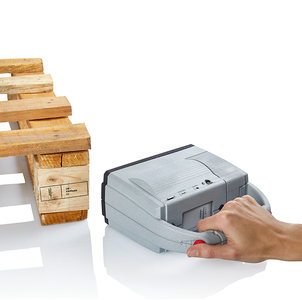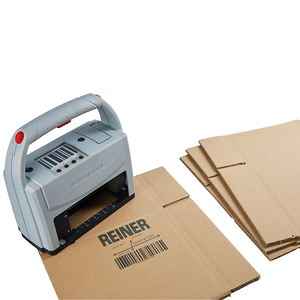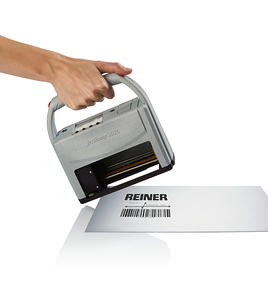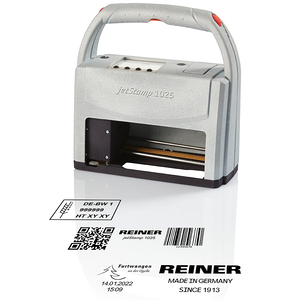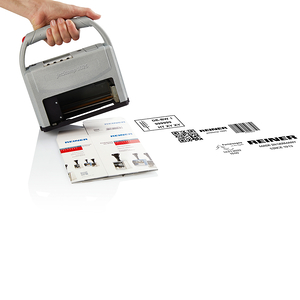 Demo Video:
If you have any questions or concerns, contact a customer service representative today.


Phone: 877.336.6877 Visit: www.officeequipmentmachineshop.com




Specifications
Manufacturer Part #:
EM1025
Dimensions (LxWxH):
8.00in. x 8.00in. x 4.00in.

---

SPECIFICATIONS

Print technology :Inkjet
Max. print area dimension (W x H) :85 x 25 mm (4 x 1 IN)
Max. print speed : < 1 s/print
Print resolution : 300 dpi
Battery capacity : up to 1.000 prints
Dimensions (L x W x H ): 194 x 200 x 98 MM (8 x 8 x 4 IN)
Weight : ca. 900 g