Bag Sealer | Preferred Pack T-200 Manual Tabletop Bagger
Availability
Online
In Store
Same Day
Description
Bag Sealers | Preferred Pack T-200 Manual Tabletop Bagger
Throw away your hand sealer and double your production or more! With the T-200 tabletop bagger-sealer, you will increase production, simplify the bagging operation and decrease packaging costs.
Package fasteners, electronic components, literature, manuals, various foods, jewelry, craft items and much more. By using Excel's pre-opened bags on rolls instead of loose bags all you have to do is simply pull the bag into the loading and sealing position, blow the bags open, insert the product into the bag and press the foot-switch or guard-switch (guard tilts downward cycling the bagger) to seal the bag. It's just that simple.
FEATURES
Heat/dwell and cool LED's indicate cycle operation of sealing mechanism
Patented Teflon Shield increases Teflon life by 10 times; Teflon is only in contact with the heating element while sealing and the element stays clean and delivers a long service life
Tilting guard or guard-switch assembly cycle machine at the loading area, maximizing output and minimizing operator fatigue
Patented anti-jamming method ensures no attempts were made to seal obstructions in the seal area, especially fingers
Universal funnel attachment is standard allowing the operator to slide the product directly into the bag
Adjustable volume air knife filters a continuous stream of clean air with a 4-micron filter
Adjustable load shelf supports the bag and also assists the operator to position the bag at the proper seal point
Quick roll change assembly and easy threading allows operators to replace the roll of bags in less than a minute
Note: All the Table Top Baggers – the T-200, T-275, T-300, and T-375 have Counters you can pre-set. When you reach the pre-set number, the Screen on the Bagger will look like the picture below.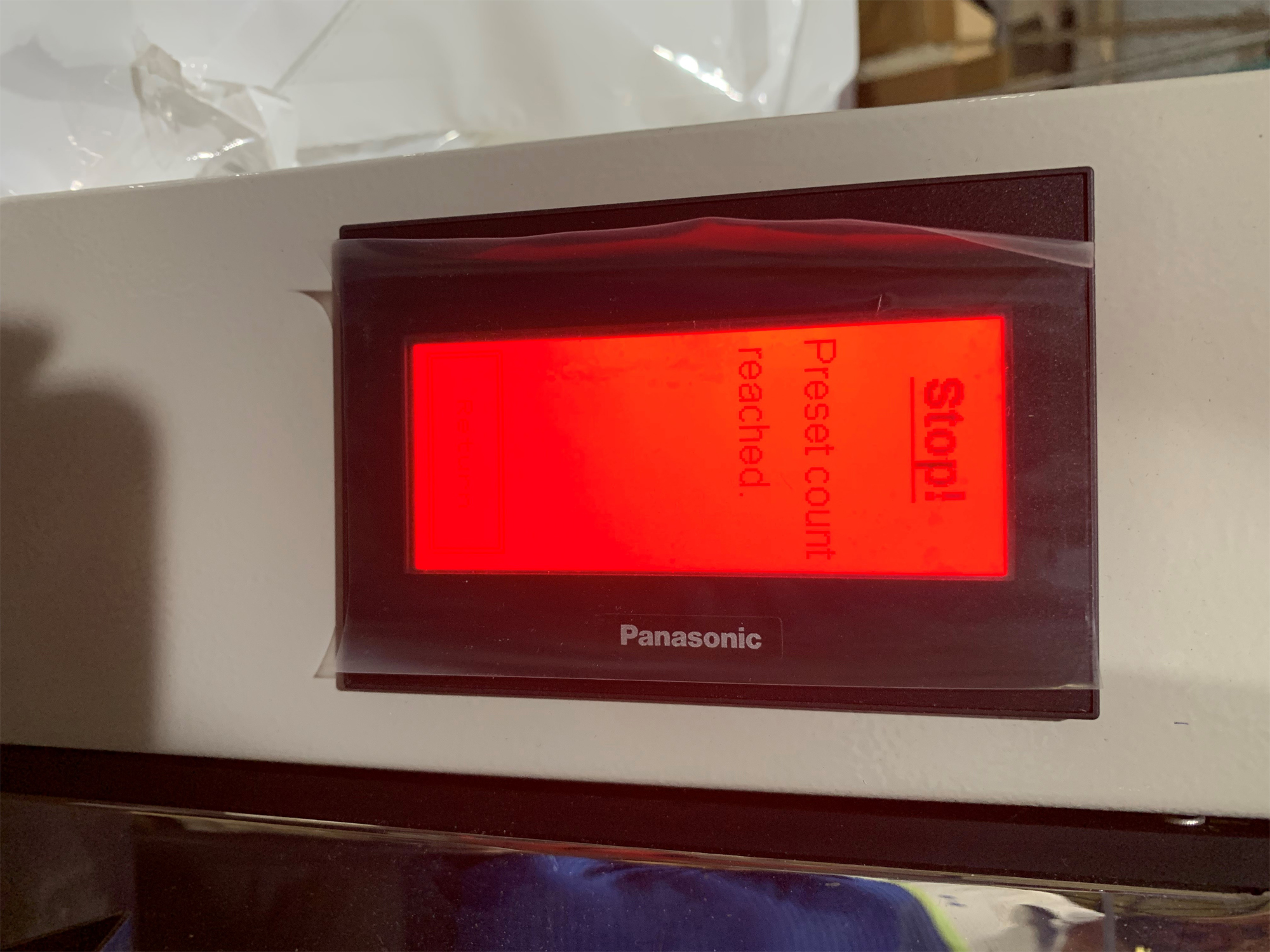 SPECIFICATIONS
Bag Feed Method: Manual Registration
Seal Mechanism: Solid Heater Bar
Cycle Operation: Semi-Automatic
Bag Size Range: 2inch x 2inch up to 11inch x 16inch
Film Thickness: 1 to 5 mil
Estimated Speed: 5 to 15 bags/minute
Guard-Switch Feature: Standard
Anti-Jam Seal Bar: Standard Safety Feature
Electric: 110V/60Hz
Air: Minimum .5cfm/40psi | Recommended 50psi and at least 5 HP. Air Compressor is not included.
Dimensions: 19.5inch x 16inch x 21.5inch
Weight: 50lbs
Shipping: Ships by Freight Carrier
Shipping Info (On a Pallet for LTL): Crated Weight: 128 lbs. Crated Dimensions: 45 x 33 x 33 Class: 125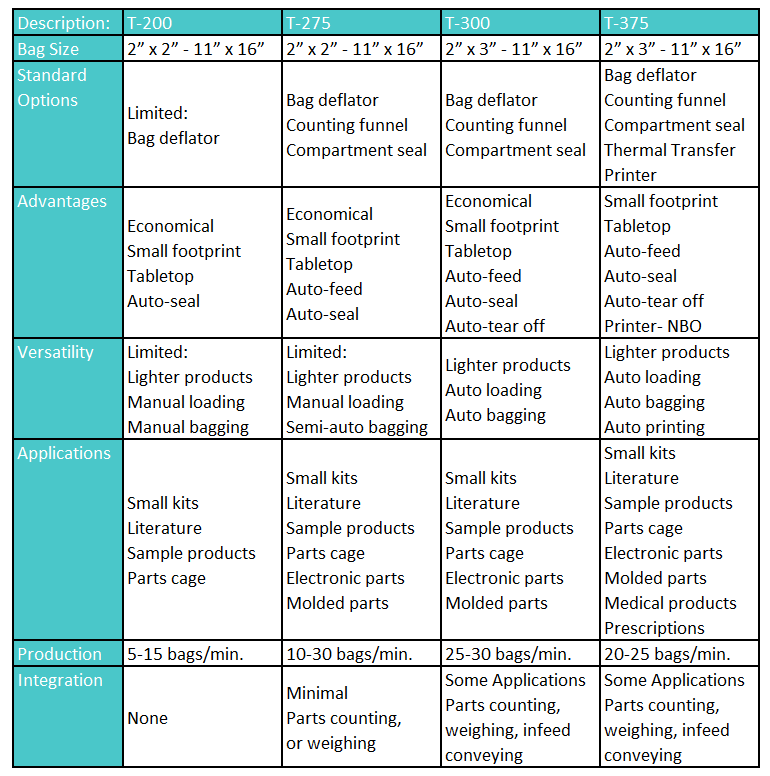 Options / Accessories
Foam Compression Pad for Air Minimization
Customer Partition Table (Sits Above Bagger to Hold Parts for Kit Packaging)
Tabletop Bagger Cart (Includes Extra Roll Hangers, Work Shelf, and Storage Shelves)
Custom Electrical
T-200 TABLE TOP BAG SEALER
If you have any questions or concerns, contact a customer service representative today.


Phone: 877.336.6877 Visit: www.officeequipmentmachineshop.com




Specifications
Manufacturer Part #:
Dimensions (LxWxH):
20.00in. x 16.00in. x 22.00in.

---

SPECIFICATIONS

Bag Feed Method: Manual Registration
Seal Mechanism: Solid Heater Bar
Cycle Operation: Semi-Automatic
Bag Size Range: 2inch x 2inch up to 11inch x 16inch
Film Thickness: 1 to 5 mil
Estimated Speed: 5 to 15 bags/minute
Guard-Switch Feature: Standard
Anti-Jam Seal Bar: Standard Safety Feature
Electric: 110V/60Hz
Air: .5cfm/40psi
Dimensions: 19.5inch x 16inch x 21.5inch
Weight: 50lbs