Back To Buyer's Guide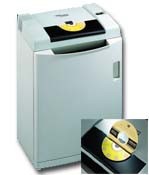 What are Industrial Shredders?
Industrial shredders are top-of-the-line destruction devices that shred all types of material from the thinnest tissue to corrugated boxes, plastics, beverage containers and more. Industrial machines require special voltage lines to be installed and take up a lot of space, usually needing their own designated area for shredding operation.
Industrial shredders are often found in plants, corporation basements or other large facility areas designed to efficiently rid, compact, and destroy large volumes of material. Some provide tables to enable multiple users to assist with feeding the machine for maximum productivity; so not only does the automatic feeder conveyor system load material in to be shredded, but additional workers can also feed the machine independently. To cut the costs of extraneous operators, automatic feed systems are usually installed with cutting edge technology that allows the machine to work on its own. The larger machines need tippers or balers purchased separately to work with the shredders or can be tailored to work with your current waste containment system.
Choosing the Right Industrial Shredder
Industrial shredders are designed to meet the specialized needs of the consumer. Here are some things to consider:
How many sheets per day do you need to shred?
Industrial shredders are designed to handle large volumes of material. Light industrial shredders can handle up to 250 sheets at a time. Medium industrial shredders handle up to 500 sheets and heavy-duty industrial shredders handle tons of material per hour. High Capacity industrial shredders destroy material by the pound.

What type of material are you going to shred?
Industrial shredders handle a wide variety of materials. Knife mill disintegrators are built for applications ranging from paper, plastic and corrugated, to wire, metal, and newspaper. Crushers flatten bulky, heavy cardboard material; used to breakdown boxes and PET and PVC beverage containers. Conveyor and hopper feeds shred newspapers, magazines, trash bins full of material, and more. Industrial shredders are designed to shred all types of material from products such as audio/video cassettes, CD's floppy disks and Zip disks, circuit boards, telephones, clocks, binoculars, cameras, toys, small kitchen appliances, computer monitors, televisions, etc-machines can be manufactured to handle virtually any material you need to shred.

What level of security do you need your shredder to meet?
Each machine comes with a different shred size for separate levels of security. The smaller the shred size, the more secure the machine; an important factor when your company's livelihood is encased in the documents you need to shred. Strip cut shreds offer minimum security by cutting the paper once into vertical strips, while cross cut shreds offer more security by cutting the paper in to two directions in to confetti-like particles. The Department of Defense maintains the maximum level of security at 1/32" by 7/16" pieces or smaller. Particle cut shreds are so small that the pieces almost sift like dust through your fingers and provide the highest level of security; virtually unreadable pieces.

How fast would you like the machine to shred?
To meet the most rigid demands in productivity, time can be an all-consuming issue when buying an industrial shredding machine. Each machine is built with a different type of engine capable of shredding more and more material at a more rapid rate, as you add horsepower and speed. Some machines come with or suggest "shredder helpers" such as automatic feeds, sorting table or racks, conveyors, hydraulic loading systems, tippers, balers, and hoppers to minimize the time it takes to eliminate waste. Make sure that you understand all your options to save the most time during shredding operation.

How big are the materials you are shredding?
Different size throat or feed openings shred different widths of material. If the material you need to shred is larger than the dimensions of the shredder you purchase, it will not be able to shred.

How many operators can you expend to operate the machinery?
Industrial shredders can work alone on an automatic feeding system or may need operators to assist in loading material on to the machine. Some provide tables to enable multiple users to assist with feeding the machine for maximum productivity, while others may require it. Understanding how many operators are needed for the shredder to function to the best of its abilities it very important when purchasing an industrial machine.

Do you need the machine to come with a conveyor to wrap around the plant?
There are many different types of conveyors that can be built to different lengths and wrap around different spaces. If you have any questions about the size of the conveyor system and whether it can be extended, please contact a MachineAdvantage sales representative.

Are your demands so tailored that you don't know if you'll ever find the right machine for your needs?
Conveyor length, horsepower, shred size and more-all of these things can be tailored to meet whatever requirements your company has for industrial shredding operation. Feel free to contact a sales representative to discuss all your options.

How much horsepower do you need for the machine to operate at a productive speed?
The most distinguishing features in an industrial shredder are the horsepower and the capacity. The more horsepower a machine is equipped with, the larger the capacity it can handle. If time and speed are major considerations for you company, you may want to pay special attention to these two criteria. Capacity and horsepower are also what categorizes the three core types of industrial shredders, not including specialized crushers, conveyors and knife mill disintegrators.

How much space can you allot for the machine?
Size is an especially important issue when buying an industrial shredder. Industrial shredders are extremely large machines that weigh as little as 1000 pounds up to 50,000 pounds or more. You need to make sure that the machine you buy can fit within the space allotted to the machine. Will it fit through the door structure? Does it need to be moved around the office or can it sit in a specified zone for shredding operation?

Do you have safety or environmental regulations that you need your shredder to contend with?
Safety is a major concern for any business. You may want to make sure that the machine you buy comes with added safety features to protect the individuals using it. Does the shredder come with protective hand guards and shields? Does the machine automatically cool? Does it come with shock protectors? Are the controls within reach so the operators are not leaning in to the machine?

Environmental concerns are also important. Do you have recycling requirements that your company needs to meet? Does your company need to meet environmental regulations for effective paper destruction? Would you like to recycle and reuse shred waste as packing material?
Maintenance
One of the biggest considerations when buying a deluxe shredding machine is ensuring that it is going to last for years to come. It will need to be both durable and dependable, designed and engineered to meet the heaviest shedding operation and in an efficient amount of time. Most of our industrial machines come with a manufacturer's warranty and on-site service, and where not provided, service is always an option you can add on, so you never have to worry about finding someone to maintain the machine.
Industrial shredders need to be maintained in the same manner one would maintain their car. A users manual, provided by the manufacturer, accompanies the shredder. It is very important that you read through this material and abide by it for years of worry-free service. Dependant upon each machine, the manufacturer may be able to provide on-site maintenance. This is an added guarantee that the machine you buy will be taken care of in the event of a mishap or overfeed that cannot be efficiently taken care of in-house.
It is especially important to oil these shredders just a you would add motor oil to your car on a consistent basis. It is a good idea to maintain the machine, even if it already comes with an automatic oiler; to keep the machine running like new. Oiling or lubricating the machine only takes a couple of seconds and ensures that your machine will continue to run to the best of its abilities. Cutters may also need sharpening or maintenance so that they continue to easily cut into any material. Shredder oil can be purchased to accompany any size machine.
Types of Industrial Shredders
Light Duty Industrial Shredders
Our light duty industrial shredders are the next step up for a company whose current machine is not tackling their growing shred needs. When a business begins to expand, more paper or material can thus be created, leaving the smaller machine panting to keep up. The light duty industrial shredder destroys up to 75 feet of paper per minute. Their cutting system handles up to 250 sheets of material at a time. They tend to weigh over 1,000 pounds, thus being considered industrial, with the strength of a larger machine. They work with an automatic feed system or require one operator to function at its maximum capabilities. A light duty shredder can meet demanding needs while remaining compact in size. Like the smaller shredder models, the light duty industrial shredders still rear discharge material in to bins or bags. They come equipped with casters that enable them to work as mobile commercial shredders. Large bins and tippers may be too large to be used with these machines.

Medium Duty Industrial Shredders
Medium duty industrial shredders are designed for one or two operators. They tend to weigh between 3,000 pounds up to 7,500 pounds and are designed to shred tough, industrial materials. They are compact enough to work in an office basement or designated office space, but do take up a lot of space. In some machines the conveyor can be extended, allowing it to handle larger volumes of material. This type of shredder can handle up to 500 sheets of material at a time, including entire waste bin contents, microfilm (reels and all), audio/video cassettes and even 3-ring binders full of paper.

Heavy Duty Industrial Shredders
Heavy-duty industrial shredders are the largest, most powerful shredding machines available from MachineAdvantage. They are complete shredding systems capable of destroying tons of material, including plastics, wooden planks, and even sheets of metal. They shred between 2-1/2 tons per hour to 10 tons of paper per hour. These machines tend to weigh over 10,000 pounds. They are specifically designed with the greatest horsepower and can be adjusted to the horsepower your industry needs. A choice of shred sizes is available so you can choose your level of security. If you see a machine but it does not come in the shred size you need, please call MachineAdvantage to inquire about the product. Most heavy-duty industrial shredders can be tailored to whatever level of security or function you need. With each smaller increment in size, you receive a greater level of security. These machines usually require several operators to run efficiently and can be built with larger or smaller conveyors to wrap around plants and factories.

High Capacity Industrial Shredders
High capacity shredders move large volumes of material, measured in pounds per hour. Many are equipped with crushers to compact bulk material as it passes through the machine. They cannot handle a volume as high as a heavy-duty industrial shredder, but the amount of paper they can handle is large enough that they need to be classified in a separate "high capacity" category. Some of these machines additionally function as knife mills, crushers, conveyors and more. The rate of movement in pounds per hour as opposed to feet per minute is really what distinguishes them form other machines of their class.

Specialized Conveyors
Conveyors move small to large amounts of material in to the shred opening. To assist in shredding, conveyors can come in different sizes or can be extended to wrap around the plant or office. Conveyors allow multiple operators to load material on to the machine. With each conveyor you get different widths for holding the largest amounts of material and automatically loading them in for shredding. Make sure that the machine comes equipped with the size conveyor that you need.

Specialized Crusher
Crushers are heavy top conveyors that were added to the specialized machines. This enhancement is built with a mechanism that exerts pressure to flatten the heaviest, bulkiest material. The pinch style system breaks down corrugated material, PET and PVC beverage containers and more, force-feeding them into the shredder. This type of shredder is ideal for recycling applications and creating packing material; great for environmentally conscious businesses.

Specialized Knife Mill Disintegrator
Inside these shredders, twin blades rotate counter to one another in a windmill or fan-like manner, disintegrating material in to dust particles. The leftover shredded material is so small they virtually turn to dust in your hands. This mechanism cuts large volumes of material at high speeds.

Be sure to match your needs to the features of the shredder.
Glossary
Baler: Balers are used for bulk reduction. The smallest baler can be designed as an actual part of the machine to crush or compact boxes and other materials that can then be bound for efficient waste reduction. A baler can also be a machine unto itself when higher volumes of crushing and compacting are needed.
Bin: Waste basket.
Chain Drive: Chains are used in many different power transmission systems. Chains are often an economic, reliable drive system for long running, continuous applications. Drive is what keeps the machine moving for long-lasting duty.
Conveyor Feed: Material slides down belt in to the feed openin.
Cross Cut: Cuts paper in to confetti-like pieces of material leftover once the material has been shredded. Provides more security than strip cut.
Crusher: Part of the machine that moves downward exerting pressure in a quick movement designed to squeeze or force material in to the feed; exerts pressure to compact, alter, and destroy material.
Cutting Head: The mechanism inside the shredder opening that tears in to cut the material.
Carbon vs. Steel Cutting Head: Generally it is better and more economical to buy higher quality combined carbon steel tools than equally or more expensive stainless tools. You can get about the same service out of these economical versions as the stainless steel models. But you should know that there is a debate about this that continues to rage. Carbon is often added to steel to increase its hardness. Even if just a drop of carbon is added to steel, a huge difference becomes apparent in the hardness of the steel. However, the increased hardness comes with a disadvantage -it is much less ductile. To avoid this, many machines come equipped with thermal protectors that monitor and control the heat treatment. With the addition of these, overheating is avoided and reduces the chance of ductility - but if the manufacturer makes a mistake when creating the cutter by allowing it to sit in the heat for too long, you can end up with a machine equipped with a dull blade that will continuously need maintenance (re-sharpening). Some manufacturers have realized this and include self-sharpening cutter to avoid this very scenario. Pure stainless steel is the highest quality in a cutter and comes with an added price tag. But the benefit is that they hold a decent cutting edge over longer periods of time.
D.O.D.: Department of Defense. Machines can be approved for use by governmental agencies, armed forces, high security bases, politicians and their governmental offices, NASA, etc. D.O.D means the shred size has been approved by the Department of Defense for national security shredding. The standard shred size for a machine to be considered D.O.D. is 1/32" by 7/16". A machine can have the D.O.D. shred size, but not be approved by the Department of Defense. Any questions on whether a machine has been approved or not can be directed to the sales force at MachineAdvantage.
EDP Rack/Computer Forms Rack: Rack that is either mountable or already mounted on to the machine. Usually used for continuous computer forms with perforated edges or extra wide computer forms. The rack allows for continuous (attached) forms to be fed in to the shredder without the user's assistance, also known as hands-free shredding.
Feed Table: Feed tables are designed for multiple users to stack and then feed the machine for higher levels of productivity or they can be used to store materials before they need to be shredded. Feed tables come in different sizes to allow for a different number of operators.
Horsepower: The more horsepower a machine has the larger the capacity it will be able to handle.
Hopper Feed: Bin-like container mounted to machine for easy dumping of material in to the feed opening. Sometimes comes equipped with a conveyor belt that also pulls the material in to the machine.
Industrial: Large, heavy-duty machine. Most can be automatically operated, but most require at least one operator to assist in feeding the machine with material. Usually used by highly technical related industries, such as plants or businesses whose main function is waste reduction.
Knife Mill Disintegrator: Twin blades rotate counter to one another in a windmill or fan-like manner, disintegrating material in to dust particles.
Microfiche: A card or sheet of microfilm capable of accommodating and preserving a considerable number of pages in a reduced format.
Particle Cut: Maximum-security granular pieces that almost sift like flour through your hands; the smallest cut in shredding operations. The shred size in a particle cut cannot be measured because the size varies.
Rubber Isolators: Parts surrounded by rubber material that traps sound, reducing noise levels.
Sheet Capacity: The maximum number of sheets the shredder can process in one pass.
Shred Size: The size of the shred after the paper has passed the cutting head or the size of the left-over material.
Shred Speed / Ft/min: How many minutes it would take to shred a ten-foot (by X wide) length of paper.
Pounds/hour: Larger measurement than feet per minute; How many pounds of material can be shredded in one hour.
Tons/hour: Measurement used to represent the amount of tons in one hour a heavy-duty industrial machine is capable of disintegrating.
Strip Cut: Cuts paper in to long strips or long lengths of paper. The smaller the cut, the greater the security.
Thermal Protection: Machine is protected against overheating.
Throat Opening / Feed: Opening through which paper is inserted in to the shredder.