Back To Buyer's Guide
What is Digital Duplicating?
Ten years ago digital duplicating equipment was not available in the United States. Five years ago, use of the technology was spreading rapidly, but mostly in a few small vertical market niches. Today, it's grown beyond those limited uses to general acceptance in many industries and organizations. Yet, it's still not as widely known or used as photocopying. The technology provides copies just like xerographic copiers do, with tremendous advantages in cost, speed and reliability. So why doesn't everyone have one? Is it a technology that could benefit your organization? To answer those questions effectively, you need to know a little about the technology.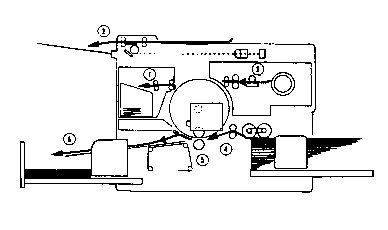 In simple terms, the digital duplicator looks and operates like your everyday office copier, but inside, the technology works more like an offset press. Digital duplicating blends three very reliable, high-quality printing technologies into one easy-to-use, compact system:
Digital Signal Processing
Push-Button Electronics
Ink-On-Paper Imaging
The blend of these three technologies provides a system, which prints high-quality documents like those done on a press, at the touch of a button, and for a fraction of the cost of copying.
Inside the equipment, the process is clean, quiet and simple. The digital duplicator captures an image digitally and then automatically creates a master, which is like a plate on the offset press. Next, ink is applied to make a copy. The diagram shows how this works in more detail. The result is a system with higher reliability and lower costs than other technologies. So why doesn't everyone use digital duplicating instead of copying? Well, there is one catch. The cost of the master, usually around thirty cents, makes the digital duplicator impractical for less than 20 copies of a page. The majority of copy jobs (memos, letters, reports, faxes, spreadsheets, etc.) made in a typical office are between one to three copies per page.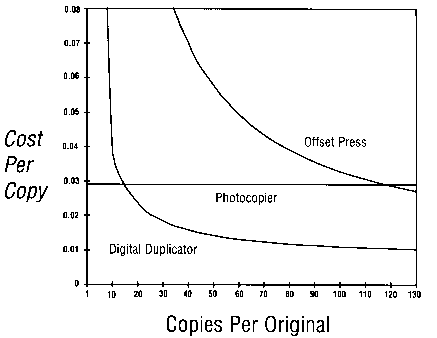 Digital duplicating equipment is best used for mid to high volume office copying jobs. And, it can reduce the amount of printing done on offset presses, either through an in-plant print shop or on jobs sent to outside vendors. The advent of desktop publishing and "On Demand Digital Printing" has also created opportunities for the growing use of digital duplicating. As its name implies, digital duplicating technology is digital, and as a result, is connectable to PCs and networks. It also offers the advantage of printing in spot color - that is two or more separate colors per page (as opposed to full process color used for magazines or brochures).
Common applications for digital duplicators include newsletters, forms, memos, fund-raising or marketing solicitation materials, training materials and manuals, flyers and many others. The main requirement for economic use of the technology is that run-lengths (copies per page) are twenty or more. The longer the run-length, the greater are the cost savings versus photocopying. As you can see from the cost per copy chart, the savings grow with each copy made on a digital duplicator, compared to the typical copier. The duplicator can also save money compared to an offset press, which requires much longer run-lengths to be practical economically. Per copy costs on the duplicator can drop well below a penny per copy with long enough runs.
Choosing the Right Digital Duplicator
There are a few key specs that you want to pay attention to when purchasing a digital duplicator. The following is list of recommended specifications. Obviously there will be special requirements based on your needs but this will be a good basis for comparison to a standard digital duplicator.
Time to First Copy:
This is the amount of time it takes the machine to make the first copy. After that, every other duplicate comes out faster. Better machines perform at no more than 26 seconds for the first copy.
Speed:
Variable from 60 to 120 copies per minute
Scanner Resolution (dpi):
Resolution is measured in dots per inch. It is not wise to have less than 300 dpi if you want to have high quality duplications
Platen Type:
It is best to have a flatbed, glass platen to easily copy loose papers or pages from a book
Copy Paper Size Minimum
It is standard to handle 3.6" x 5.9" paper
Copy Paper Size Maximum
It is standard to handle 11 x 17" paper
Paper Weight Minimum
It is standard to accept 13 lb paper stocks
Paper Weight Maximum
It is standard to accept 110 lb paper stocks
Paper Feed Capacity
This is the amount of paper the machine can hold without reloading. Less than 1000 sheets @ 17.6lb. Bond paper will require more maintenance especially with large runs (the way digital duplicators are meant to be used)
Image Area Maximum
Not less than 9.8" x 13.7"
Ink Capacity
Should hold at least 600cc to avoid constant maintenance
Ink Colors
This is the number of colors and combinations your duplicator has the ability to print. It is not wise to have less than sixteen for nice sharp colors
Key Features and Benefits Glossary
Preset Reductions and Enlargements: One touch resizing; Improved copy fitting for more professional-looking documents; enables oversize originals to be printed on standard paper sizes; Reduces operator error and wasted masters.
Shadow & Edge Erase Modes: Reduce amount of ink placed on page by erasing "gutters" and shadows; Attractive, readable prints.
Wide Range of Original Weights: Heavy originals or paste-up can be duplicated without jamming the document feeder.
Speed: Adjust speeds for desired ink coverage; Improve the reliability of feeding various paper weights and sizes; Much faster than laser printers or small copiers, and as fast as many offset presses; Increase turnaround time.
Combine Two Originals: Double productivity while reducing paper cost by 50%.
First Copy Time: Saves time, even on shorter duplicating runs.
LCD Display: Easy to read, plain English display; Walks users through print job for increased productivity; Program in one of five different languages.
User Program Mode: Saves operator time; Jobs can be called up and printed by untrained personnel.
Paper Delivery Wings: Reduces risk of having ink set-off; Easier paper handling.
Air Pawl Sheet Separation: Increases paper exit reliability.
Air Vacuum Paper Exit: Increases paper feed reliability; Allows for wider range of paper stock.
Copy Paper Capacity: Reduces need for operator monitoring and paper loading time.
Copy Paper Weight: For added impact;Increase flexibility; Bring more jobs in-house.
Large Capacity Delivery Tray: Larger tray matches the input capacity of the paper tray.
Cartridge Ink: No mess; Easy reloading; No wash-downs.
Custom Match Ink: Able to answer customer demands for matching school, church or logo colors.
Economy Mode: Reduces ink cost per printed page by up to 15%.
Master Ejection Process: Eliminates the need for skilled operators; Clean, fast, automatic process; High capacity.
No Master Waste Confidential Mode (Security Mode): Maintain document security without wasting masters; Permanent lock even when system is restarted.
Optional Accessories
Automatic Document Feeder:
(Feeds and automatically positions up to 30 originals) Allows for continuous, unattended printing of multiple originals, thereby increasing productivity; Makes big jobs easy; Time saver
Tape Separator:
(Automatically places tape between copies made from each original) Separates output from multiple originals for ease of distribution
Computer Interface:
(Allows duplicator to be directly linked to PC or MAC) Improves image quality. When used with Image Overlay function can combine image with hard copy, eliminating the need for multiple passes.