Back To Buyer's Guide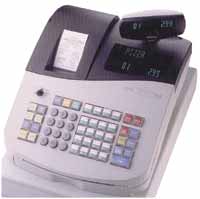 What are Cash Registers?
Cash registers are portable machines that keep track of daily income, distribute change, and temporarily store currency. Product pre-sets and other quick-key functions make transactions fast and efficient. All registers come with a removable, locking cash drawer, memory back-up protection, and the ability of automatic tax computation. They are excellent machines for both stationary and traveling businesses (craft shows, conventions, etc.) that involve the sale of merchandise.
Choosing the Right Cash Register
The amount of merchandise, number of clerks, and rate of inflows/outflows will determine which cash register is most suitable for a particular operation. You can expect to spend anywhere between $150 and $500 on a cash register. The higher-end models have more programmable functions, as well as more sophisticated printing and display capabilities.
To choose the right cash register, you will want to consider the following features:
Displays
Most cash registers have a front display for the clerk and a rear display for the customer. Some rear displays can be adjusted and rotated for convenient customer viewing. Higher-end models may have an alphanumeric front display, where the top line is alphanumeric and the bottom line is numeric only. The alphanumeric display shows item descriptions during sales registration and alphanumeric prompts during the program mode to assist the user with set-up.
Price Look-Ups
Commonly referred to as PLU's, these are numbers that can be programmed to represent merchandise or inventory. They are used for quick and accurate entry and tracking of frequently sold items. Once programmed, the user punches in the PLU code (e.g. 299) on the keypad and then presses the "PLU" button. The product's price and any other programmable information will immediately appear on the display. The number of PLU's can range from 12 to 1,600 depending on the model. Certain models also allow the user to assign an alphanumeric description or name to each PLU number so that each selected item has a name, price, and description all at the touch of one button. This is a valuable feature for items with quick turnover.
Printers
Printers come in single, two, or alphanumeric stations and are connected to the register. Single-station printers only print out one paper tape that can be used either as a journal record or a customer receipt. However, some single-station printers print on two-ply paper providing both a receipt for the customer and a merchant copy (journal tape) for record keeping. Two-station printers can be found in more expensive models, where they provide a separate customer receipt and journal tape. Higher-end models may also offer alphanumeric printers capable of printing PLU descriptions on the receipt and/or journal, as well as separate alphanumeric store logo and/or commercial messages.
Departments
Departments are numbered keys on the keyboard that represent a grouping or category of products. They can be used for quick and accurate entries of items sold, but are usually used for tracking and reporting of items sold. The number of departments ranges from 8 to 40. Higher-end models allow the user to assign an alphanumeric description or name to each department number.
Clerk Identification System
Most models have a clerk ID security system that gives clerks an individual ID number allowing them to sign in and use the register. The number of ID numbers ranges from 6 to 18. This system serves as a tracking and reporting feature for individual clerk sales. Certain models allow the clerk to assign an alphanumeric description or name to each clerk ID number.
Trays
All models come with at least 4 slots for coins and 4 slots for bills in the cash drawer. Higher-end models come with a few extra slot trays or an accessory drawer for additional storage of currency.
Glossary
Alphanumeric: Used in both displays and printers; it allows both numbers and letters to be shown or printed.
Automatic Tax Computation: Allows the programming of (usually 4) different tax rates.
Clerk Identification: Assigns each user an ID number for security and monitoring of individual sales.
Departments: Numbered keys representing categories of products.
Display: Shows the clerk and/or the customer the amount, and often the type of purchase.
Journal Tape: A copy of the receipt for the merchant.
Management Report Printing: Provides periodic sales analysis by mid-day, end-of-day, week, and/or month.
Price Look-Ups (PLU'S): Numbers representing products used for entry and tracking.
Secondary Charge Keys: Allows the user to separate multiple credit cards