AccuBANKER AB610 Medium Duty Coin and Token Counter Packager
Availability
Online
In Store
Same Day
Description
AccuBANKER AB610 Medium Duty Coin and Token Counter and Packager
THREE (3) YEAR WARRANTY
Accurate and sturdy, the AB610 allows a fast counting and sorting of coins, tokens and chips in retail stores, entertainment venues, amusement facilities, coin laundries, gas stations, vending businesses, and many other environments. It includes professional functions and allows an easy set up for a wide variety of coins and tokens. Packaging and bagging coins or tokens become an easy task.
The medium duty counter and packager designed for mid-sized businesses to large retail stores allows an accurate count by the selection of thickness and diameter. Easy to carry and with slick design, the AB610 offers professional performance at an affordable cost.
FEATURES
Saves time and labor costs
Facilitates Counting, Packaging, Sorting and bagging Coins or tokens
Reduces losses due to human error
Easy to carry
Anyone can use it
Counts and sorts up to 1800 coins per minute
Quick set up for batching
Accepts coins and a wide variety of tokens
Great for medium sized businesses to large chain stores
Three-year warranty


SPECIFICATIONS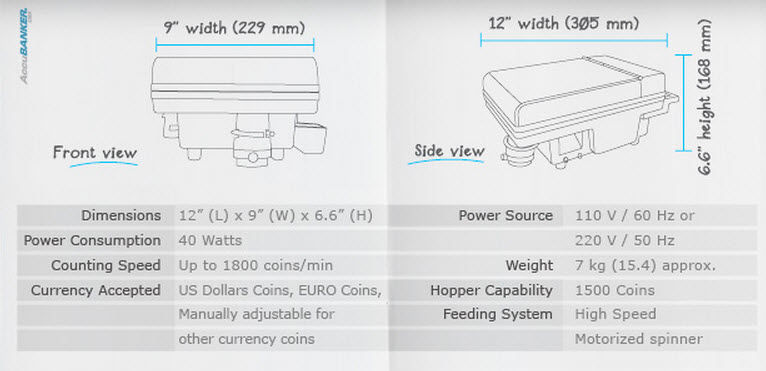 DEMO VIDEO
AB610 - Product Overview - (English)
AB610 - Product Overview - (Español)
WARRANTY
Three (3) Year Warranty covers all Parts and Labor claims
Life Time Technical Support 24/ 7/ 365 (90% of Service Cases can be troubleshooted over the phone in <10 mins)
Advance Replace Program
48 Hour Depot Service
Nationwide Coverage (all 50 States + P.R.)
International Coverage in over 40 countries
If you have any questions or concerns, contact a customer service representative today.


Phone: 877.336.6877 Visit: www.officeequipmentmachineshop.com





COVID Supply Chain Warning Due to global challenges including COVID and Climate Change affecting all businesses, prices are subject to change because of supply chain disruptions, shipping delays, labor shortages, material shortages, and inflationary pressures. If you place an order, and there is an increase in a price from that shown, we will alert you before processing the order.