Dahle 40606 Professional Strip Cut Paper Shredder
Availability
Online
In Store
Same Day
Description
The Dahle 40606 Oil-Free Department Shredder features maintenance-free operation, precision milled cutting cylinders, and automatic jam protection. This P-2 shredder produces a 1/4" particle size and holds up to 45 gallons of shredded waste. It's German engineered and guaranteed to provide many years of trouble-free operation.
FEATURES
Oil Free / Hassle-Free shredding maintains performance without maintenance
Precision milled cutting cylinders offer strength and reliability
SmartPower Energy Management reduces power consumption and saves on electrical costs
Automatic jam protection reverses motor in the event of an overfeed
German engineered machine offering trouble free operation and peace of mind
Automatic On / Off and Bag Full Auto Off Convenience
Chain driven motor for slip-free performance
Shreds CDs, credit cards, paper clips and staples
Lockable rolling castors for easy placement
Special Features
Oil-Free
German Engineered
Jam Protection- Automatic
SmartPower
Chain Driven Motor
Continuous Duty Motor
Thermally Protected Motor
Precision Milled Cutting Cylinders
Rubber Shock Mounts
SPECIFICATIONS
Product Applications :For the destruction of Non-Confidential documents
Feed Width :16 Inches (406 mm)
Sheet Capacity (#20 / #16) :36 / 40
Shred Size (media) : 1/4 Inches
Security Level - (DIN 66399) : P-2
Waste Volume : 45 gal
Waste Bag : 20726
Speed (ft / min) : 26
dB Level : 50
Motor (developed) : 4 hp
Motor (established) : 2.2 hp
Color : Gray
Warranty : 2 Years
Warranty - Cylinders : Lifetime
Dimensions : 20 x 29 x 38 Inches (508 x 737 x 965 mm)
Product Weight : 199 lbs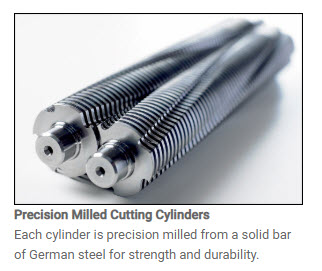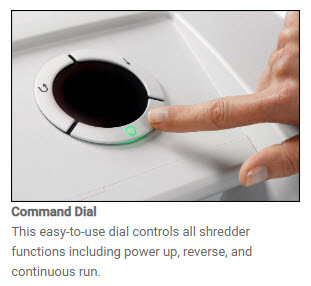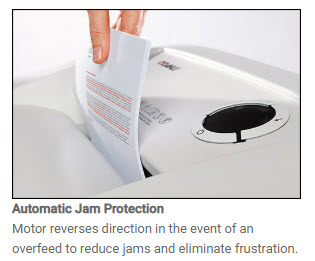 A Closer Look...
The Dahle 40606 Department Shredder supports the document destruction needs of busy offices with 5+ users. It features precision milled cutting cylinders, SmartPower energy management, and automatic jam protection to eliminate frustration. This P-2 shredder produces a 1/4" particle size and holds up to 45 gallons of shredded waste. It's German engineered and guaranteed to provide many years of trouble-free operation.
Oil-Free Shredding
Wondering when your shredder was last oiled is no longer a concern with this oil-free, hassle-free shredder. Through clever engineering, this machine maintains peak performance without the aid of oil.
Milled Cylinders
This shredder features solid cutting cylinders milled from a bar of German Solingen steel. They're perfectly aligned in an all-steel frame. The result is a machine with strength, power and the ability to handle all your data destruction needs.
Jam Protection
Fewer things are more frustrating than a paper jam. With automatic jam protection, this shredder prevents those annoyances. If sheet capacity is exceeded, the motor automatically stops and reverses to push the paper back out. This prevents a jam and makes it easy to re-feed fewer sheets.
SmartPower Energy Management
This shredder automatically powers down after 30 minutes of inactivity. It will appeal to those interested in conserving energy as well as reducing electrical costs.
This Dahle shredder is German Engineered from over 88 years of experience. The result is a quality machine and peace of mind in knowing the cutting cylinders are guaranteed for life.
If you have any questions or concerns, contact a customer service representative today.


Phone: 877.336.6877 Visit: www.officeequipmentmachineshop.com





COVID Supply Chain Warning Due to global challenges including COVID and Climate Change affecting all businesses, prices are subject to change because of supply chain disruptions, shipping delays, labor shortages, material shortages, and inflationary pressures. If you place an order, and there is an increase in a price from that shown, we will alert you before processing the order.
Specifications
UPC/EAN:
076769406063
Manufacturer Part #:
40606
Dimensions (LxWxH):
20.00in. x 29.00in. x 38.00in.

---

SPECIFICATIONS

Product Applications :For the destruction of Non-Confidential documents
Feed Width :16 Inches (406 mm)
Sheet Capacity (#20 / #16) :36 / 40
Shred Size (media) : 1/4 Inches
Security Level - (DIN 66399) : P-2
Waste Volume : 45 gal
Waste Bag : 20726
Speed (ft / min) : 26
dB Level : 50
Motor (developed) : 4 hp
Motor (established) : 2.2 hp
Color : Gray
Warranty : 2 Years
Warranty - Cylinders : Lifetime
Dimensions : 20 x 29 x 38 Inches (508 x 737 x 965 mm)
Product Weight : 199 lbs