Lassco Number Rite Sequential\Repeating Numbering Machine W100
Availability
Online
In Store
Same Day
Description
Lassco W100 Number-Rite Sequential\Repeating Numbering Machine
THE W100 IS UNDERGOING A REDESIGN. IT SHOULD BE AVAILABLE IN JANUARY OR FEBRUARY OF 2021. CHECK BACK WITH US IN JANUARY. 718.859.0917 OR SALES@OEMS.Store NOTE; SUPPLIES ARE IN STOCK NOW.
)
The W100 Number-Rite has an adjustable strike area for a perfect hit every time. You can number any place on the sheet in consecutive , duplicate, triplicate, 4 times, 6 times and 12 times repeat action.
It is great for big jobs, and prints sharp clean numbers every time. It features six figure wheels with sinkable zeros. No # sign. The Number-Rite is foot-pedal operated and hand fed.
Features
Adjustable hit crash number through 8-part carbonless or delicate paper ,
Numbering head may be set in any direction
Head can be tilted forward or backward to make sure you get the best impression
Number consecutive, duplicate, triplicate, 4 times, 6 times, 12 times, or repeat action
:Moveable/adjustable paper guides for simple registration

The W100 Number-Rite arrives with
1 Gothic head with ink pad clip
1 bottle of ink
3 ink pads.

Specifications


Solenoid: 115 Volt
Actual weight: 13 lbs
Shipping weight: 14 lbs. However, this ships by dimensions.
Ships via: UPS

A roman printing head is also available.

There is a $3.00 Handling Charge.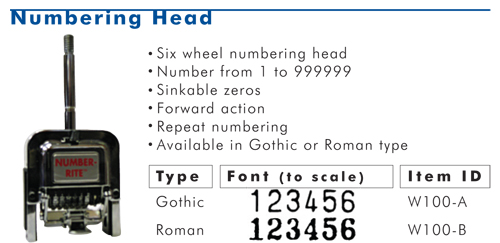 DEMO VIDEO : LASSCO W100 3 005 VIDEO
If you have any questions or concerns, contact a customer service representative today.


Phone: 877.336.6877 Visit: www.officeequipmentmachineshop.com





COVID Supply Chain Warning Due to global challenges including COVID and Climate Change affecting all businesses, prices are subject to change because of supply chain disruptions, shipping delays, labor shortages, material shortages, and inflationary pressures. If you place an order, and there is an increase in a price from that shown, we will alert you before processing the order.