Lassco Number Rite Sequential\Repeating Numbering Machine W100
Availability
Online
In Store
Same Day
Description
Lassco W100 Number-Rite Sequential\Repeating Numbering Machine
THE W100 IS UNDERGOING A REDESIGN. IT SHOULD BE AVAILABLE IN JANUARY OR FEBRUARY OF 2021. CHECK BACK WITH US IN JANUARY. 718.859.0917 OR SALES@OEMS.Store NOTE; SUPPLIES ARE IN STOCK NOW.
)
The W100 Number-Rite has an adjustable strike area for a perfect hit every time. You can number any place on the sheet in consecutive , duplicate, triplicate, 4 times, 6 times and 12 times repeat action.
It is great for big jobs, and prints sharp clean numbers every time. It features six figure wheels with sinkable zeros. No # sign. The Number-Rite is foot-pedal operated and hand fed.
Features
Adjustable hit crash number through 8-part carbonless or delicate paper ,
Numbering head may be set in any direction
Head can be tilted forward or backward to make sure you get the best impression
Number consecutive, duplicate, triplicate, 4 times, 6 times, 12 times, or repeat action
:Moveable/adjustable paper guides for simple registration

The W100 Number-Rite arrives with
1 Gothic head with ink pad clip
1 bottle of ink
3 ink pads.

Specifications


Solenoid: 115 Volt
Actual weight: 13 lbs
Shipping weight: 14 lbs. However, this ships by dimensions.
Ships via: UPS

A roman printing head is also available.

There is a $3.00 Handling Charge.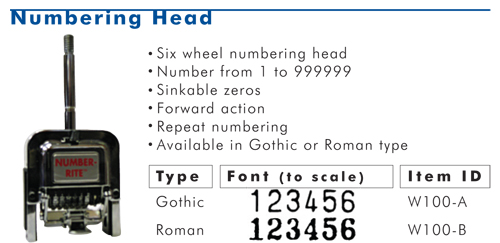 DEMO VIDEO : LASSCO W100 3 005 VIDEO
If you have any questions or concerns, contact a customer service representative today.


Phone: 877.336.6877 Visit: www.officeequipmentmachineshop.com