Accubanker AB510 Sort & Wrap Coin Counter | Three 3-Year Warranty
Availability
Online
In Store
Same Day
Description
Accubanker AB510 Sort & Wrap Coin Counter | Three 3-Year Warranty
High roller? Count on the AccuBANKER AB510 Coin Counter and Coin Sorter to count, sort, and roll all your coins in an efficient and precise manner. We've also included coin tubes for each denomination. With speeds of up to 350 coins per minute and a hopper capacity of 3000 coins, the AB510 is a dime among nickels.
Organized & Practical
The AB510 counts and sorts high volumes of coins and organizes them by denomination with its individual coin trays. This unit includes plastic coin tubes for each denomination in order to facilitate and speed up the wrapping process.
Easy To Use & Versatile
Its lightweight design makes it easy to transport and to accommodate to any workstation. It is ideal for businesses that handle a lot of cash such as retail stores, entertainment venues, amusement facilities, coin laundries, gas stations, vending businesses, and many other environments.
FEATURES
FREE 3 Year Warranty Included
Hopper Capacity 3000 coins
Sorts and counts from 320-350 coins per minute
US coins only
Displays detailed breakdown of total value and coin quantity per denomination
Includes plastic coin tubes for each denomination (coin wrappers not included)
Compatible with AccuBANKER Thermal Printer for detailed receipts (printer optional / sold separately)
SPECIFICATIONS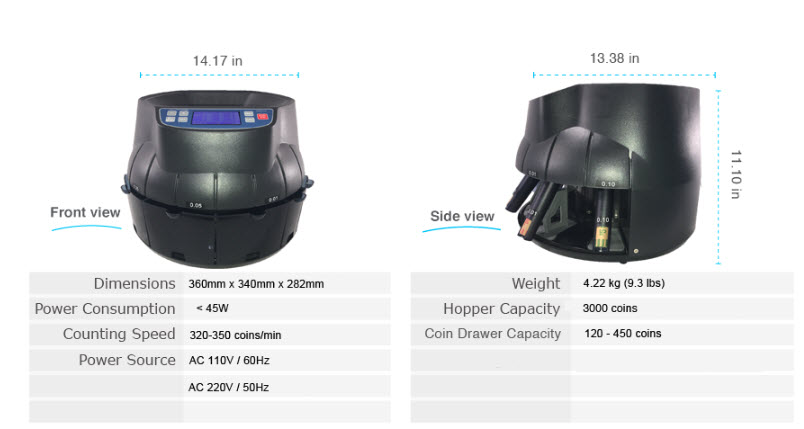 For safety reasons, this product should only be operated with the power adapter supplied. Using an adapter other than an AccuBANKER issued adapter will void the warranty of the equipment.
DEMO VIDEO
If you have any questions or concerns, contact a customer service representative today.


Phone: 877.336.6877 Visit: www.officeequipmentmachineshop.com





COVID Supply Chain Warning Due to global challenges including COVID and Climate Change affecting all businesses, prices are subject to change because of supply chain disruptions, shipping delays, labor shortages, material shortages, and inflationary pressures. If you place an order, and there is an increase in a price from that shown, we will alert you before processing the order.
Specifications
Manufacturer Part #:
AB510
Dimensions (LxWxH):
15.00in. x 14.00in. x 12.00in.

---




Accessories

MSRP: $149.00
Price You Pay: $135.00