Carton Sealer | Preferred Pack CT-50-3 SS Stainless Steel Semi-Automatic Carton Sealer with 3 inch tape heads
Availability
Online
In Store
Same Day
Description
Preferred Pack CT-50-3 SS Stainless Steel Semi-Automatic Carton Sealer with 3 inch tape heads
The operator simply folds the top flaps of the corrugated carton and feeds it into the machine. The CT-50 applies a single tape strip to both the top and bottom of the case simultaneously. This two belt drive design is a heavy duty versatile machine designed for dependable performance and easy operation. The CT-50 can be easily adjusted in only seconds to process a different size carton. Excellent for low profile, small, lightweight boxes.
STANDARD FEATURES:
"Patented" Tape Head with "Easy Thread" Design
Interchangeable Tape Heads
Side Pressure Rollers to Close Box Top
2 Side Drive Belts -Positive Feed
Fully Adjustable Legs
OPTIONAL FEATURES:
Infeed Conveyor
Exit Conveyor
Stainless Steel Frame
Heavy Duty Locking Casters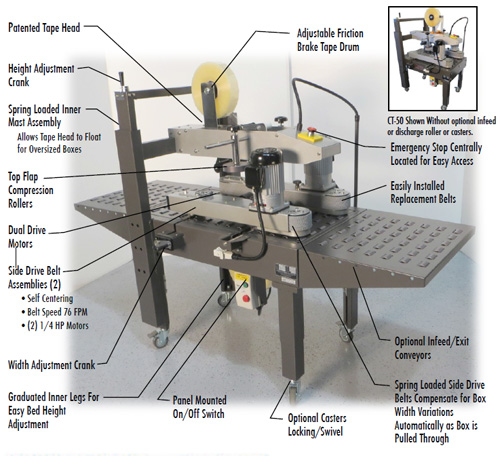 SPECIFICATIONS
Carton Size: Length: :6" min. to infinite / Width: 4.5" min. to 18.5" max. / Height: 4" min. to 19.5" max
Machine Dimensions :36"L x 27"W x 53"H
Machine Speed : 75ft./min. up to 2000 cartons per hour. Production rate depends on carton size and operator dexterity.
Power : 110v, single phase, 10 amp
Weight : 320 lbs. shipping weight 370 lbs.
Max. Box Weight : 65 lbs.
Tape Head Specs : 3" (72mm) wide - 1,000 yard or 1,500 yard rolls
DEMO VIDEO
CT 50 with label applicator
If you have any questions or concerns, contact a customer service representative today.


Phone: 877.336.6877 Visit: www.officeequipmentmachineshop.com





COVID Supply Chain Warning Due to global challenges including COVID and Climate Change affecting all businesses, prices are subject to change because of supply chain disruptions, shipping delays, labor shortages, material shortages, and inflationary pressures. If you place an order, and there is an increase in a price from that shown, we will alert you before processing the order.
Specifications
Manufacturer Part #:
Dimensions (LxWxH):
36.00in. x 27.00in. x 53.00in.

---

Specifications:


Carton Size
Length: 6" min. to infinite
Width: 4" min. to 20" max.
Height: 4" min. to 20" max.

Machine Dimensions: 36"L x 27"W x 53"H

Machine Speed: 75ft./min. up to 2000 cartons per hour. Production rate depends on carton size and operator dexterity.

Power: 110v, single phase, 10 amp

Weight: 320 lbs. shipping weight 370 lbs.

Max. Box Weight: 65 lbs.

Tape Head Specs: 2" (48 mm) wide - 1,000 yard or 1,500 yard rolls

Warranty: 1 yr. on all parts