Carton Sealers | Preferred Pack PP-563BE Semi-Automatic Pack Station
Availability
Online
In Store
Same Day
Description
Carton Sealers | Preferred Pack PP-563BE Semi-Automatic Pack Station
With automatic bottom major flap folding
The operator simply opens up and squares a flat box, loads it into the pack station, uses the kick plate to fold minor flap and activate the bottom flap folder. The operator then presses the green switch and 2 of the bottom flaps are opened allowing for the next box to be fed into the machine. The operator then fills the box, and when once filled, the operator closes the minor and major flaps and pushes the box into the carton sealer.
STANDARD FEATURES:
Saves time and labor costs to close bottom flaps before loading
Folding size:
L 250-500mm (10-20")
W 200-400mm (8-16")
H 100-500 mm (4-20")
Locking casters
Air: 1 CFM at 60 PSI
Electrical: None required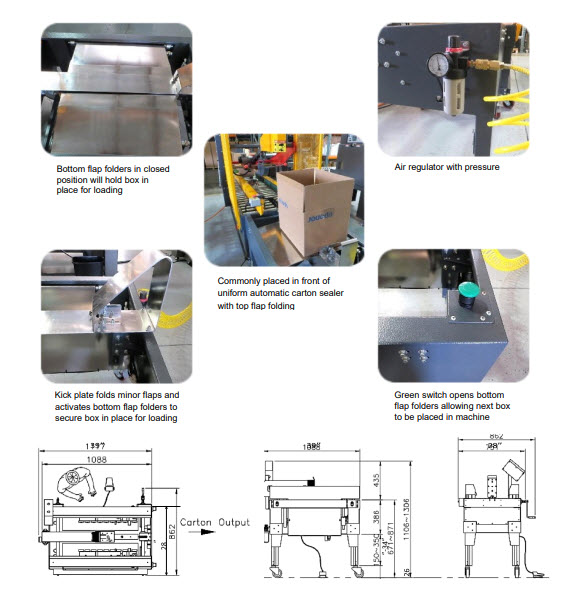 SPECIFICATIONS
Box Height:4 to 19.6 max Inch
Box Width : 7.8 to 15.7 max Inch
Box Length : 9.8 to 19.6 max Inch
DEMO VIDEO
If you have any questions or concerns, contact a customer service representative today.


Phone: 877.336.6877 Visit: www.officeequipmentmachineshop.com





COVID Supply Chain Warning Due to global challenges including COVID and Climate Change affecting all businesses, prices are subject to change because of supply chain disruptions, shipping delays, labor shortages, material shortages, and inflationary pressures. If you place an order, and there is an increase in a price from that shown, we will alert you before processing the order.
Specifications
Manufacturer Part #:

---

SPECIFICATIONS

Box Height:4 to 19.6 max Inch
Box Width : 7.8 to 15.7 max Inch
Box Length : 9.8 to 19.6 max Inch