Cassida Cube One (1) Pocket Automatic Mixed Bill Counter and Sorter and Currency Discriminator
This Item Ships For Free
Availability
Online
In Store
Same Day
Description
Cassida Cube Automatic Mixed Bill Counter and Sorter and Currency Discriminator
Includes rechargeable lithiom ion battery and A/C adaptor
Please check the below Video for Cassida Cube Setup & Value Proposition
Counting mixed bills just got easy!
The Cassida Cube saves you time and effort by accurately counting and sorting mixed bill stacks. No need to sort by hand... simply stack bills of all denominations right on the Cube, press a button and counting begins. The cube identifies denominations automatically and tracks both the count and value of bills run through. An onscreen report, that is also printable, shows values and counts by denomination - so you have a full accounting.
Count on the go
The Cube runs on both AC power and an included 12-volt rechargeable battery, meaning you can take the Cube to events, trade shows, estate sales or anywhere you need to count stacks of mixed bills. On battery power, you have hours of continuous counting on a single charge.
An excellent choice for counting
Recognizes mixed denominations automatically
dentifies in any orientation, face up or face down
On-screen report shows count and value for each denomination
Choose SORT mode to sort by the denomination of first note through
Choose Add and Batch functions to easily set up bank deposits
Accurately counts and totals up to 250 bills per minute
Counts anywhere - AC or battery powered (included)
Compact footprint fits into any cash processing center
Great for retailers, offices, events, restaurants
Specifications
Model range: Cube

Modes: Mixed, Sort, Piece count

Batching: custom and presets of 100, 50, 25, 20, 10

Power supply: 110V~240 V 50/60 Hz or DC 12v/2.0A

Power consumption: <20 watts

Battery: rechargeable lithium 10.8 v/2000mAH

Hopper Capacity: 100 bills

Stacker Capacity: 100 bills

Counting speed: 250 bills/minute

Onscreen Information: Operation mode/Bill denomination/Selected currency/Total number of bills/Total value of all counted bills/Total number and value for each denomination/Error messages/Battery level

Detections: Magnetic, infrared, image, color spectrum, length and density

Printing: Yes, printer is optional

Net weight: 3.9 lbs (1.8 kg) without battery

Dimensions: 6.7"L x 6.2"H x 6.0"W (170mm x 157mm x 152mm)
Shipping Weight: 7.0 lbs.

UPC code: 857287002988

SKU: B-CUBE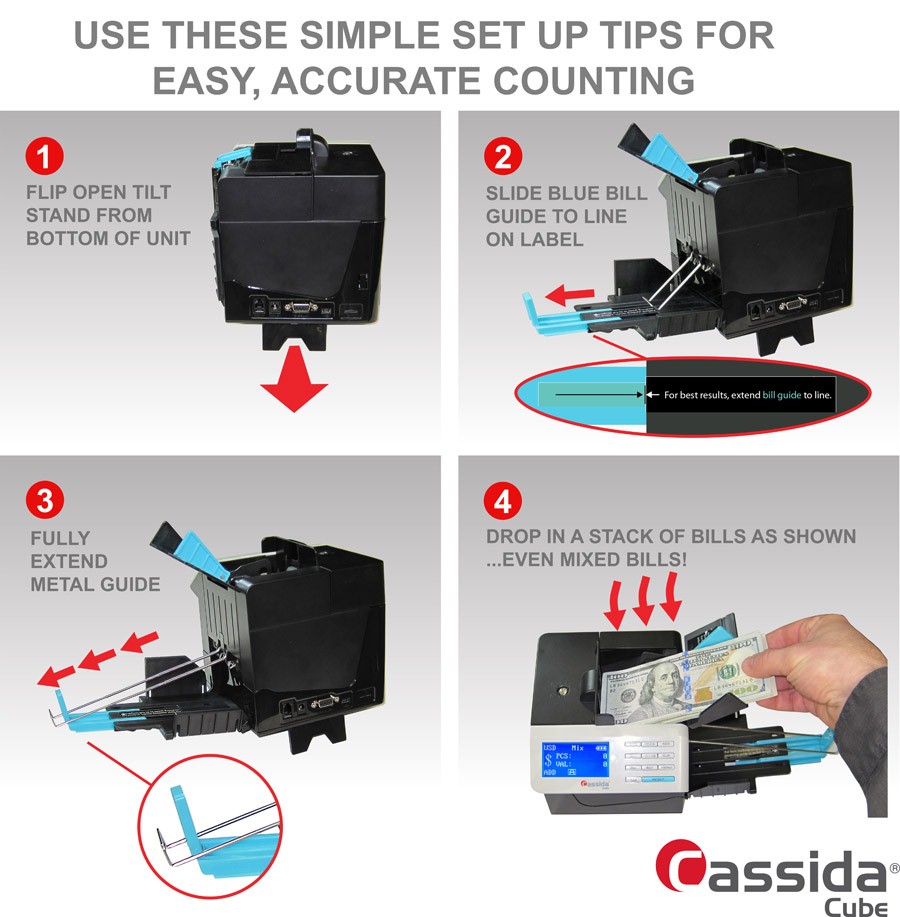 Car Power Adaptor
Enjoy the convenience of AC power in your car or truck with this compact DC to AC inverter. The perfect accessory when workspace or access to AC outlets is limited. Works with all Cassida products.
Fits all standard vehicle cigarette lighter sockets
Two AC outlets
Automatic overheat shut-off at 150F (66C)
Overload warning LED when the equipment's power consumption exceeds wattage rating
Low-battery alarm at 10.6V and automatic shut-off feature at 10V
Automatic shutdown and restart function when overloaded
Replaceable fuse
Specifications:
Input Voltage: 12 V DC
Output Voltage: 110 V AC 10%
Frequency: 60 Hz
Receptacles: 2 x NEMA 5-15
Plug/Connector Type: 1 x Cigarette Lighter Adapter
Warranty: 3 Year
Dimensions, Unit: 3.7"w x 1.6"d x 5.75"l (95mm x 41mm x 146mm)
Weight: 1.2 lb (.54 kg)
UPC: 857287002483
SKU: A-12VCA
Cassida Cube Setup Video
Cassida Cube Value Proposition Video
Warranty:
Cassida provides a one (1) year Parts and Labor Warranty and LIFETIME technical support over the phone for all products.Units must be returned to factory for servicing. Inbound shipping charges are the user responsibility. Repaired units will be returned with shipping prepaid. Warranty does not cover routine cleaning or other user maintenance requirements
A Warranty Extension to three (3) years is offered by Cassida for a nominal amount on their Currency Counters, Coin Counters and Counterfeit Bill Detectors. If you are interested click and look for the Warranty Extension under the Accessories Tab on this page above the Item description or when you make your purchase click on the Extended Warranty bullet above the Add to Cart Button.
Specifications
| | |
| --- | --- |
| UPC/EAN: | 857287002988 |
| Dimensions (LxWxH): | 7.00in. x 7.00in. x 6.00in. |
Accessories

MSRP: $400.00
Price You Pay: $350.00