Bag Sealers | T-275 Manual or Automatic Tabletop Bagger
Availability
Online
In Store
Same Day
Description
Bag Sealers | T-275 Manual or Automatic Tabletop Bagger
The T-275 makes it easy to open, load/fill and seals pre-formed, pre-opened bags on a roll. It will allow you to achieve MUCH HIGHER packaging rates than you get with pre-cut bags and an impulse sealer!
By using our Pre-Opened Bags on Rolls, instead of loose bags, simply let the bagger move the bag into the loading position and open it for you. You insert your product and press a foot-switch or guard-switch (guard tilts downward to cycle the bagger) to seal the bag. Then, the T-275 automatically moves the next bag into the loading position. Its just that simple, and quick!
Package fasteners, electronic components, hardware, parts, kits, literature, manuals, various foods, jewelry, craft items and more!
FEATURES
Solid, constant heat seal bar with temperature adjusted through easy-to-use temperature controller
Patented Teflon shield increases Teflon life tenfold; Teflon only contacts the heater bar while sealing; The Teflon remains clean with less opportunity to burn
Guard-switch operation cycles the machine at the loading area to minimize operator movements; decrease operator fatigue and increase output
Patented anti-jamming method detects seal obstructions and reverses seal bar
Universal adjustable funnel included
Air knife quickly opens bag with filtered air
Adjustable support provided for heavier products
Easy threading; pull the bags off the roll and through the pinch rollers with no rollers to thread through
Note: All the Table Top Baggers – the T-200, T-275, T-300, and T-375 have Counters you can pre-set. When you reach the pre-set number, the Screen on the Bagger will look like the picture below.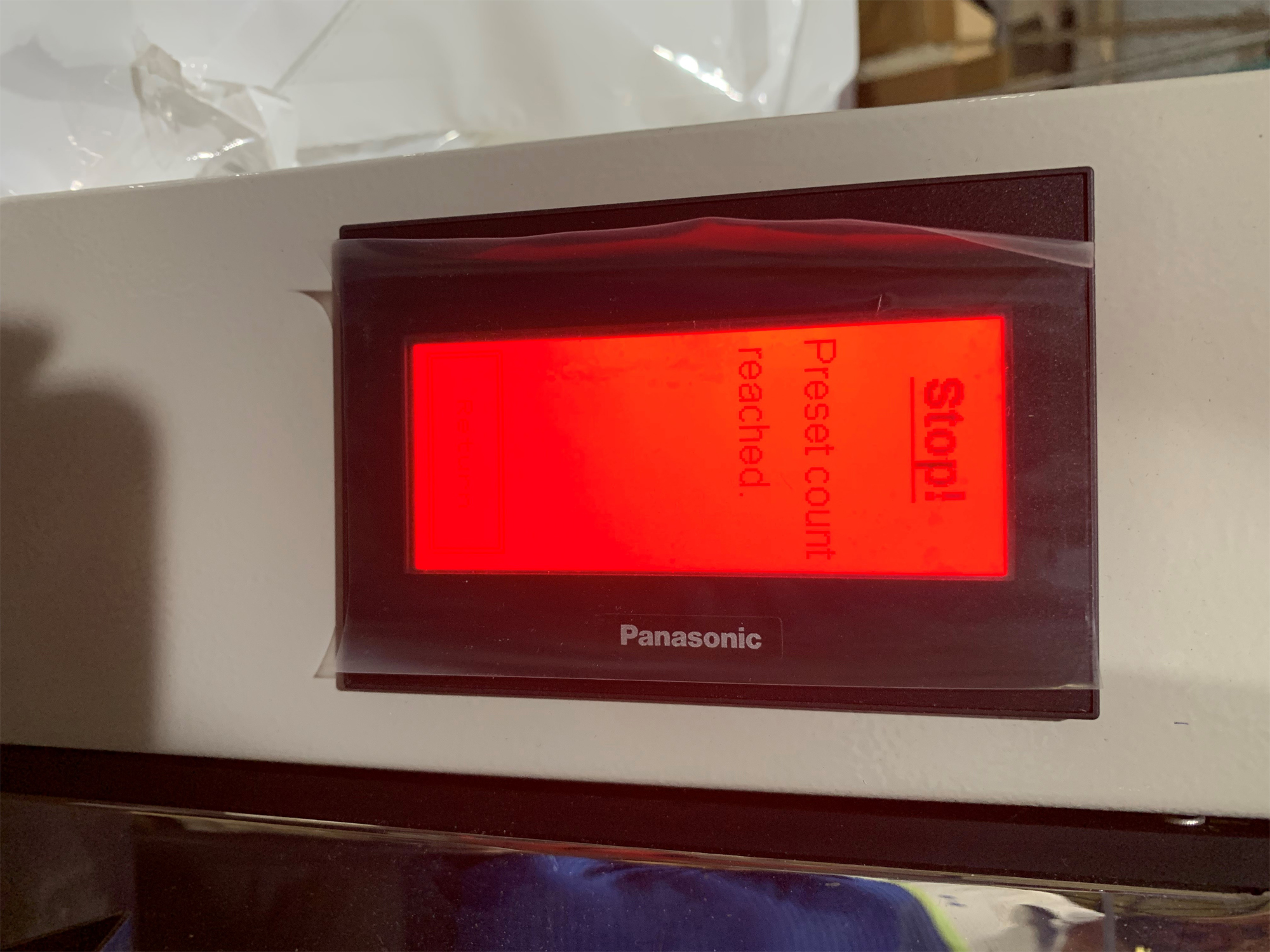 SPECIFICATIONS
Bag Feed Method: Automatic Registration
Seal Mechanism: Sold Heater Bar; Continuous Heat
Cycle Operation: Automatic
Bag Size Range: 2inch x 2inch up to 11inch x 16inch
Film Thickness: 1 to 5 mil
Estimated Speed: 10 to 20 bags/minute
Guard-Switch Feature: Standard
Auto/Paced Rate Operation: Standard
Anti-Jam Seal Bar: Standard Safety Feature
Electric: 110V/60Hz
Air: .5cfm/40psi
Dimensions: 19.5inch x 16inch x 21.5inch
Weight: 60lbs
Shipping Information: Dimensions: 32 x 40 x 30 inches | - 175 lbs crated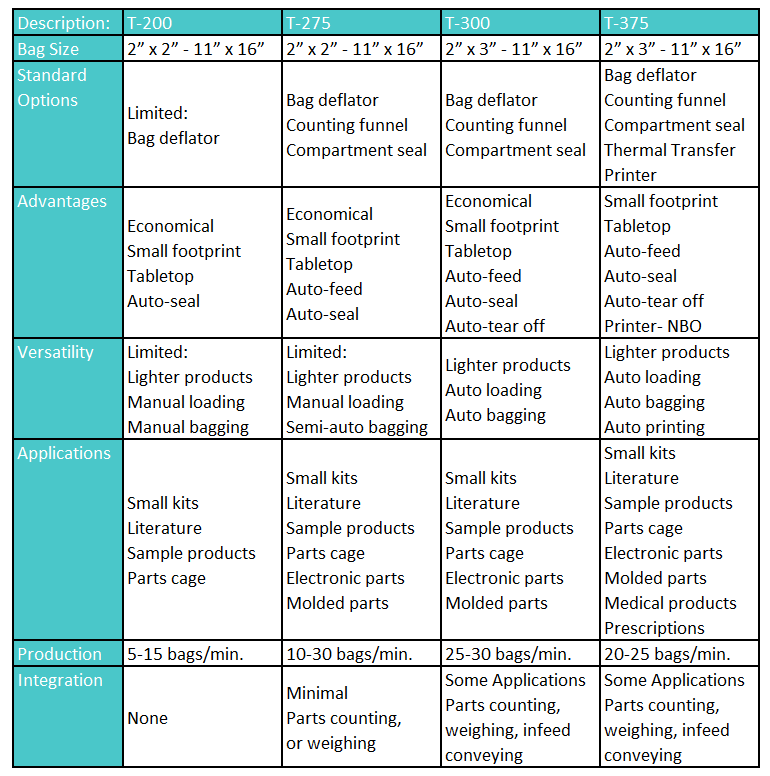 Options / Accessories
Foam Compression Pad for Air Minimization
Custom Electrical
Air Expeller if bag is to Puffy
Preferred Pack T-275 Manual or Automatic Tabletop Bagger
Preferred Pack T-275 Manual or Automatic Tabletop Bagger
If you have any questions or concerns, contact a customer service representative today.


Phone: 877.336.6877 Visit: www.officeequipmentmachineshop.com




Specifications
Manufacturer Part #:
T-275
Dimensions (LxWxH):
20.00in. x 16.00in. x 22.00in.

---

SPECIFICATIONS

Bag Feed Method: Automatic Registration
Seal Mechanism: Sold Heater Bar; Continuous Heat
Cycle Operation: Automatic
Bag Size Range: 2inch x 2inch up to 11inch x 16inch
Film Thickness: 1 to 5 mil
Estimated Speed: 10 to 20 bags/minute
Guard-Switch Feature: Standard
Auto/Paced Rate Operation: Standard
Anti-Jam Seal Bar: Standard Safety Feature
Electric: 110V/60Hz
Air: .5cfm/40psi
Dimensions: 19.5inch x 16inch x 21.5inch
Weight: 60lbs



Accessories
MSRP: $2699.00
Price You Pay: $2405.00