Billcon D-551 Currency Discriminator and Mixed Bill Counter
Description
Billcon D-551 Mixed Bill Counter and Currency Discriminator
The Billcon D-551 Bill Counter is a Heavy-Duty"Mixed"Currency Counter, Currency Discriminator, Money Value Counter and Mixed Bill Sorter featuring a new technology capable of processing up to 1200 "Mixed" banknotes per minute.
TO USE THE BILLCON D-551 MIXED BILL COUNTER THERE IS NO NEED TO PRESORT BILLS BY DENOMINATION OR TO ORIENT OR TURN THEM.
The D-551 Bill Counter has four modes for counting or batching. One button operation displays count in dollar amounts for each bill type. The Billcon D-551 Mixed Bill Counter has a large hopper with a 300 note capacity to load large quantities of bills into the machine and also has a 100 note pocket to hold bills of mixed denominations and a 200 note stacker to keep the bill count continuously moving. The Billcon D-551 Bill Counter identifies and counts specific bill denominations or mixed denominations depending on the operator selected mode, detects for similar bills and feeds the matching bills to one location. Suspicious and counterfeit notes are detected via magnetic counterfeit detection sensors and a message is displayed on the large, clear LCD display. The display shows all counting and batching data. The entire system is controlled via an easy to use menu driven operator control panel
The all-new Billcon D-551 features advanced high-speed denomination recognition technology, six modes of counting bills preset batching and a blazing 1,200-notes-per-minute speed. Billcon's unique full-line sensor accurately distinguishes between the six denominations of U.S.bills.
FEATURES
Offers magnetic detection.
Magnetic sensors provide quick and effective suspicious note detection as counterfeit.
Shows a full-graphic display.
The large, easy-to-read LCD screen shows total bill count and value, total cumulative bill count and value, bill count and value by denomination, cumulative bill count and value by denomination, as well as error codes and messages.
Offers instant error detection.
When the Billcon D-551 encounters errors such as skew, half note, short note, over-batch, jams, etc., it automatically notifies the user with an alarm and LCD readout.
Provides automatic starting.
The D-551 is programmed to start automatically when bills are placed in the hopper. Or, it can be set to start manually..
Interface.
Two communication ports for RS-232C can be installed for connection to devices such as personal computer, serial printer and cash settlement system.
Choose from a variety of counting modes:
Mixed Mode < Mixed Counting >
Identifies and counts mixed denomination bills, providing a summary of each denomination and total count.

Single Mode < Denomination Sorting Counting >
Sorts a specific denomination. Other denominations are rejected to the pocket.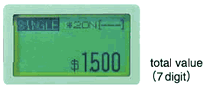 Separation Mode < Separate Denomination Counting >
Counts a specific denomination. When a bill of a different denomination is detected, the machine temporarily stops. When bills are removed from the stacker, counting resumes.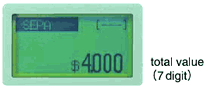 Single and Direction Mode < Denomination and Direction Sorting Counting >
Sorts in direction and denominations. Other direction and denomination are rejected to the pocket.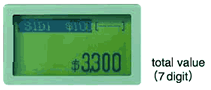 Free Mode <Piece Counting Mode>
SPECIFICATION
| | |
| --- | --- |
| Currency | US dollar (six denominations excluding $2 |
| Count speed | 1,200 1,000, 600 notes-per-minute |
| Preset batch | 100, 50, 25, 20, 10 (manually adjustable from 1-999) |
| Interface | 2 Communication ports for RS-232C |
| Display | Liquid crystal dot matrix display (graphic type) |
| Hopper capacity | 500 notes |
| Stacker capacity | 200 notes |
| Pocket capacity | 100 notes |
| Suspicious note detection | Magnetic sensors |
| Dimensions (W X D X H) | 13.0 X 13.4 X 12.0 inch (330 X 340 X 300 mm) |
| Weight | 29.7 lbs (13.5kg) |
| Power consumption | 90W |
| Power supply | AC 100 - 120V +/- 10% |
DEMO VIDEO
Accessory Printer Available



CLICK HERE to view Accessory Printer for Money Counter Billcon D-551

COVID Supply Chain Warning Due to global challenges including COVID and Climate Change affecting all businesses, prices are subject to change because of supply chain disruptions, shipping delays, labor shortages, material shortages, and inflationary pressures. If you place an order, and there is an increase in a price from that shown, we will alert you before processing the order.
Specifications
Manufacturer Part #:
D551
Dimensions (LxWxH):
13.00in. x 13.00in. x 14.00in.

---

FEATURES

Offers magnetic detection.
Magnetic sensors provide quick and effective suspicious note detection as counterfeit.
Shows a full-graphic display.
The large, easy-to-read LCD screen shows total bill count and value, total cumulative bill count and value, bill count and value by denomination, cumulative bill count and value by denomination, as well as error codes and messages.
Offers instant error detection.
When the Billcon D-551 encounters errors such as skew, half note, short note, over-batch, jams, etc., it automatically notifies the user with an alarm and LCD readout.
Provides automatic starting.
The D-551 is programmed to start automatically when bills are placed in the hopper. Or, it can be set to start manually..
Interface.
Two communication ports for RS-232C can be installed for connection to devices such as personal computer, serial printer and cash settlement system.



SPECIFICATION




| | |
| --- | --- |
| Currency | US dollar (six denominations excluding $2 |
| Count speed | 1,200 1,000, 600 notes-per-minute |
| Preset batch | 100, 50, 25, 20, 10 (manually adjustable from 1-999) |
| Interface | 2 Communication ports for RS-232C |
| Display | Liquid crystal dot matrix display (graphic type) |
| Hopper capacity | 500 notes |
| Stacker capacity | 200 notes |
| Pocket capacity | 100 notes |
| Suspicious note detection | Magnetic sensors |
| Dimensions (W X D X H) | 13.0 X 13.4 X 12.0 inch (330 X 340 X 300 mm) |
| Weight | 29.7 lbs (13.5kg) |
| Power consumption | 90W |
| Power supply | AC 100 - 120V +/- 10% |