CD-1000 One (1) Pocket US Dollar Mixed Bill Currency Money Value Counter Sorter-Multiple Currency Discriminating Counter Counterfeit Bill Detector
Availability
Online
In Store
Same Day
Description
CD-1000 US Dollar Mixed Bill Currency Money Value Counter and Sorter-Multiple Currency Discriminating Counter and Counterfeit Bill Detector - One Pocket Discriminator
THE CD-1000 CAN BE PROGRAMMED TO PROCESS UP TO THREE (3) CURRENCIES..
Put mixed and missorted banknotes into this one pocket Mixed Bill Counter and Currency Discriminator and you are given both a piece/unit count of the bills you run through the currency counter together with aggregate monetary value totals. It tells you the number of bills and the value of the bills you put in.
TO USE THE CD-1000 MIXED BILL COUNTER THERE IS NO NEED TO PRESORT BILLS BY DENOMINATION OR TO ORIENT OR TURN THEM.
SEE THE VIDEO DEMONSTRATION BELOW TO SEE THE CD-1000 IN ACTION!.
PRICE INCLUDES 90 DAYS PARTS AND LABOR WARRANTY AND ONE YEAR FACTORY LIMITED PARTS WARRANTY. TELEPHONE SUPPORT IS ALWAYS AVAILABLE. WE OFFER MAINTENANCE AGREEMENTS THAT ARE MORE COMPREHENSIVE AND FOR ADDITIONAL TIME. CALL IF INTERESTED. A LINK TO PURCHASE A ONE YEAR MAINTENANCE AGREEMENT IS IN THE ACCESSORIES TAB ABOVE AND IN THE RELATED INFORMATION BOX ON THE RIGHT.
A7 Thermal printer
Designed with user convenience in mind, the A7 thermal receipt printer incorporates fast printing speed and jam-free technology. Its small footprint, proven reliability, print speeds up to 200mm/sec and low cost makes the A7 an ideal entry level printer.
2-Line External Display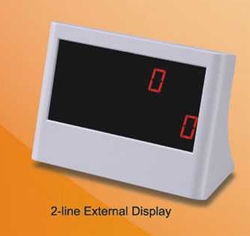 2-Line & Dual screen display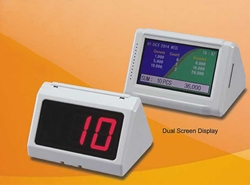 FEATURES
Premium Multi-Currency Discriminator Bill Counter and Sorter with Full-Size CIS Bill Scanning
One Pocket Multi-currency Counter and Sorter with Counterfeit (CF) detection for U.S. Dollars (USD), Euros (EUR) and other international currencies
ECB Approved
Upgrades for New Bills and Software: One stop upgrade by USA flash memory sticks. Download programming to your computer, then onto a Flash Memory Stick and then to your CS-1000 through the USB Port,
Up to 3 currencies can be installed. The currencies presently available to you are itemized in the list on the right side of this page in the Information Box
ALL, BHD, GBP, BGN, RMB, CNY, EGP, EUR, IDR, JPY, JOD, KES, KWD, LBP, MYR, MXN, OMR, PLN, QAR, RUB, SAR, SGD, KRW, TJS, TZS, THB, TRY, AED, USD & UZS



SPECIFICATIONS
The unit comes with Auto-switch power supply which can handle from 100 - 240 VAC, 50~60Hz. 1.5A
Dimension (W x D x H) = 11[W] x 11[D] x 10[H] inches
Shipping Dimension = 13[W] x 12[D] X 12[H] inches
Product Weight: 16 lbs
Product Shipping Weight: 19 lbs
Sophisticated counterfeit note detection by Ultraviolet Light (UV), Florescent Light,(FL), Magnetic Sensors (MG)e, MT, IR
Value counting for USD, Euro and Local currency with full size IR CIS
3.2" TFT Color LCD display
4 direction (Face, Bottom, Width, Length) Note recognition
Compact and attractive design. Small footprint!
Option for 2-Line external display or Dual screen display
Easily open front head for maintenance
Easy trouble shoot by user from keypad
3D size detection
Real Time Clock
Recording the counted result
COVID Supply Chain Warning Due to global challenges including COVID and Climate Change affecting all businesses, prices are subject to change because of supply chain disruptions, shipping delays, labor shortages, material shortages, and inflationary pressures. If you place an order, and there is an increase in a price from that shown, we will alert you before processing the order.
Specifications
| | |
| --- | --- |
| UPC/EAN: | 750022111221 |
| Manufacturer Part #: | CD-1000 US Dollar |
| Dimensions (LxWxH): | 11.00in. x 11.00in. x 10.00in. |
Accessories

MSRP: $225.00
Price You Pay: $200.00

MSRP: $150.00
Price You Pay: $125.00

MSRP: $225.00
Price You Pay: $200.00